How Do I Choose the Best Two-Tone Watches?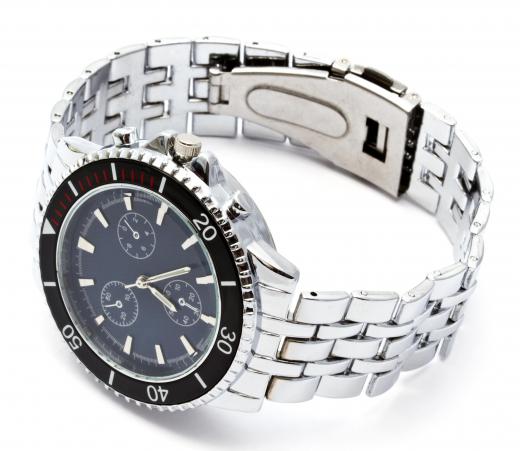 The best two-tone watches will be well made, fit your budget, and match your personal style aesthetic. Two-tone watches are made from yellow and white gold, sterling silver, stainless steel, and various plastics, alloys, and plated metals. The material is typically the determining factor in the cost of the watch, coupled with the brand. You can find tone-two watches online, through catalogs, and in brick and mortar stores.
Before you begin shopping, decide what you're willing to spend on a watch. If it's a trendy item that you only plan to wear for a few months, you probably shouldn't spend very much. You should budget with the idea that in a few months, you'll be out shopping for accessories again. A classic style that you intend to keep and wear for many years, or even pass down as an heirloom, will cost much more. Whatever your budget, make a note of the amount and stick to it.
Next, determine your personal style. Watches reflect many different aesthetics through the design of the band, rim of the watch face, hands, and lettering. Two-tone watches are available in digital and analog formats, so decide which one you prefer. More formal watches may have real or imitation jewels in the design.
Also consider other characteristics that you need in a watch. Many watches are waterproof or water resistant, which is useful to protect it in inclement weather or if it accidentally becomes wet. Decide what style of band you want, although the two basic choices are links or a fabric or plastic band.
When you've determined your budget and written down the characteristics you are looking for in style and function, you are ready to start shopping. Of course, it's difficult to determine if a watch is the best choice for you if you aren't looking at it and trying it on. Therefore, going to brick and mortar retailers where you can try on the watch is the best way to shop for two-tone watches.
If you must shop online, find a retailer that offers free shipping, even on returns. They also need to have a generous return and exchange policy so that if a watch doesn't suit you, you can send it back. Some companies charge restocking fees and deduct that amount from your reimbursement, so check the return policy carefully before purchasing. You should also look for an authorized dealer, since it is common for designer brands to be counterfeited and sold as real.
The best two-tone watches are be made of gold, which is usually marked on the back of the band with a number like 10, 14, or 24 and the letter K, which stands for karat. Gold doesn't tarnish, has intrinsic value, and can last centuries. Typically, Swiss watches have the best reputation, but there are many other countries which produce excellent watches as well. Only watches worth tens of thousands of dollars have specific mechanical characteristics. If you are purchasing this type of watch, you should have it inspected and appraised by a professional watchmaker or repairer, not a salesperson, before you buy it.
Whichever watch you buy should be running. Wound watches can last indefinitely, but it may be more difficult and more expensive to find a well trained repairman. Sometimes it can cost more to repair a watch than it is worth. Battery operated watches are typically less expensive and less delicate than wound watches.
An inexpensive watch made from imitation materials should still be well put together. Look for a band that is sturdy, with links that are flexible and even. Check that the band is attached well to the watch face. Make sure the clasp can be fastened and unfastened without any trouble as this is the area that will receive the most use.
Regardless of the watch's price tag, make sure it fits comfortably. Bands can be resized, but the face of the watch should feel comfortable as well. If it seems too heavy or doesn't sit right on your wrist, keep shopping.


A two-tone watch.