How Do I Choose the Best Treatment for Facial Redness?
The best treatment for facial redness can depend on the root cause of your condition, since different people can experience these same basic symptoms for a variety of reasons. One of the most commonly experienced conditions that can cause facial redness is called rosacea, which is a disorder that can often be treated with anti-inflammatory lotions. In other cases, rosacea can only be effectively treated with prescription antibiotics. Another source of facial redness that can require a visit to the doctor is lupus, which is sometimes managed with corticosteroids and immune system suppressants. Acne, perimenopause, contact dermatitis, and many other conditions can also cause similar symptoms, so it is important to determine what you have before you start any type of treatment for facial redness.
Facial redness is a condition that is typically caused by an increase of blood flow to the skin of the face, though there are many underlying conditions that can result in similar symptoms. It is normal for skin to become flushed under certain circumstances, so instances of temporary facial redness that accompany cold weather, embarrassment, and other well defined circumstances are not usually reasons for concern. If the condition persists, or is accompanied by other symptoms, then it can be important to identify the cause in order to determine the best treatment for facial redness in your particular situation.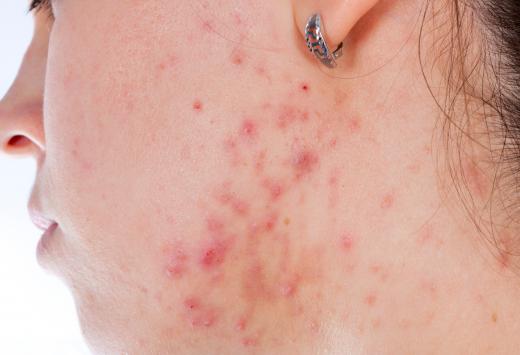 Rosacea is one of the most common causes of persistent facial redness. This condition is a skin disorder that sometimes results in prominently visible blood vessels, bleeding, and other issues. A dermatologist can determine whether you have rosacea, though an easy test you can do at home is to press firmly down on an area of reddened skin. If the redness disappears when you remove your finger, then quickly returns, you may have rosacea. This condition can often be treated with over the counter (OTC) topical lotions that contain licorice root and anti-inflammatories, though prescription antibiotics are sometimes required.
Another condition that can result in facial redness is contact dermatitis, which is a type of rash that can be caused by skin irritation or allergic reactions. The best treatment for facial redness that is the result of a contact reaction is to avoid the substance that caused it. Some skin care products can cause irritation, and each person has a unique set of substances they are allergic to. After you have eliminated the allergen or irritant, you can help reduce this kind of facial redness by applying a topical steroid cream, and possibly by taking an antihistamine if an allergy is involved.
In some cases, facial redness can be caused by more serious conditions. If the pattern of redness is shaped somewhat like a butterfly, it may be caused by an autoimmune disease known as lupus. It is important to visit a doctor if you suspect this type of condition, as complications from lupus can be quite serious. The best treatment for facial redness in this situation is to manage the lupus with immune suppressants, anti-inflammatories, and other treatment regimens prescribed by your doctor.


By: Hayati Kayhan

Licorice root has anti-inflammatory properties and is used to make lotions that treat facial redness.

By: quayside

Treatment for facial redness caused by dermatitis first requires removing the allergen that caused the redness.

By: badmanproduction

Acne can cause facial redness.

By: robert mobley

Rosacea is one of the most common causes of persistent facial redness.