How Do I Choose the Best Tick Spray?
Protecting your pet from ticks can help control disease. When you are looking for a tick spray, it is a good idea to read the label carefully to make sure the insect repellant is designed for your animal. You should also consider the age of your pet when making a selection. It can be a good idea to consider how the product will be disposed of. If your animal has allergies, you may want to ask your veterinarian to recommend a tick repellant.
A tick spray is generally designed to be used on only one type of animal. This means if you have a dog, tick control intended for a cat will not usually work and could be harmful as well. Some tick products can be used on more than one type of animal, making them a good choice if you have many types of pets in your household.
The animal's age should be considered when choosing a tick spray. There are medicines available for adults, seniors, and babies. If you have a young pet, you may need to buy a formula especially for babies. You may have a similar dilemma if your pet is very old, in which case you may need one intended for seniors. Using a tick repellant that is not intended for the animal's age group can be harmful, so it is important to choose the right one even if it is more expensive to do so.
Fleas or mosquitoes may be a problem in addition to ticks. If this is the case, you may want to choose a tick spray that also repels these creatures. Before applying this medication, it can be helpful to know if it will react with other flea treatments your pet may have been given. It can be a good idea to call the manufacturer of the insect repellant if you have applied other flea medications recently.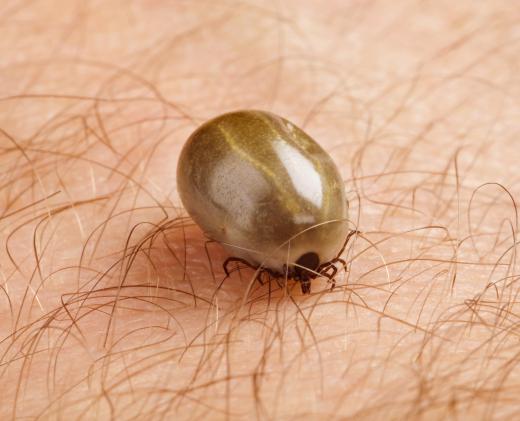 Your pet's veterinarian can be a good source of information concerning tick spray. This is because she is familiar with your pet's health history. You may want to ask her for advice if your animal has an underlying health condition or if you are concerned about an insect repellant reacting to other medications.
It can be important to know how your tick spray container must be disposed of. That way, you will be sure you will not be overwhelmed by a cumbersome disposal process once it is gone. If you live in an area where insect repellant is strictly regulated, you may want to consider a natural tick spray in order to avoid these issues.
AS FEATURED ON:
AS FEATURED ON:






By: Carolina K Smith MD

A brown dog tick.A brown dog tick.

By: Gabriel Blaj

A veterinarian can help a person decide which tick treatment best for their pets.

By: Viktor

Depending on their sex and type, ticks can expand to different sizes -- as big as a grape or as small as an apple seed -- when feeding on blood.