How do I Choose the Best Stereo Bluetooth® Headset?
Stereo Bluetooth® headsets have become essential gizmos for many people who are constantly on the go. Being able to receive phone calls hands-free, with the added functionality of listening to high-quality music from one's stereo system, digital media player or computer in stereo sound, has made it a must-have gadget for savvy professionals and many others. There are plenty of models out there to suit every budget, and every headset has its own advantages and disadvantages. To choose the best stereo Bluetooth® headset, some things to consider are comfort, compatibility, battery life, sound quality and ease of use.
There's no point investing in a fantastic headset if it is always falling out of your ears. These headsets come either as earbud-style units that plug into the ears or headphone-style units that have a band connecting the earpieces. You'll probably be wearing your headset for long periods of time, so check to see whether it feels awkward or sits lightly on your ears. Also consider where you might be using it the most. For example, if you plan to use it during your gym workouts or while jogging, then you'll probably need a very lightweight model that is also resistant to sweat.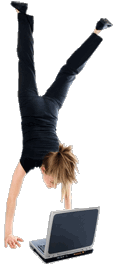 Check to see whether your stereo Bluetooth® headset is compatible with your cell phone by taking a look at the compatibility lists provided by the manufacturer. Ensure that your cell phone supports two important types of profiles: the Advanced Audio Distribution Profile (A2DP), which makes it possible to stream high-quality audio wirelessly in stereo sound via Bluetooth® signals; and the Audio/Video Remote Control Profile (AVRCP), which allows you to control your music wirelessly via your headset. Also take a look a the number of devices that are compatible with your headset, because that gives you more options.
Another thing to consider is battery life. Most of these headsets average about five to 10 hours of talking time, with some hardier models delivering about 12 hours. Read through some reviews to see how the manufacturer's claims of battery life compare with usesr' experiences before making your choice.
Sound quality is an important consideration when choosing a stereo Bluetooth® headset. Check to see whether the headset delivers sound at a good volume, which can be important when you are in a noisy environment. Make sure that turning up the volume does not cause the sound quality to decrease. You also might check whether the headset provides anough base or can be adjusted to increase or decrease the bass.
If you are fiddling around with your headset all of the time because the controls are too complicated or to difficult to locate, then its going to be hard to use long-term. Check to see whether the microphone is close to your mouth when you wear your headset, or it might sound like you are mumbling. Confirm whether the model that you are considering includes features that you'll use often, such as track-skipping or volume control.
Check with your friends and read up on as many reviews as you can find on the performance of the stereo Bluetooth® headset that you are considering. People who have used a headset will be able to tell you whether it is a hardy model that offers consistent sound quality and whether calls come through clearly, without any distortion or noise. Other users also might be able to tell you whether the manufacturer provides top-notch customer support.
AS FEATURED ON:
AS FEATURED ON:






Woman doing a handstand with a computer