How do I Choose the Best Step Aerobics Class?
Step aerobics is a cardiovascular exercise routine that consists of choreographed moves centered around an elevated platform. The height of the platform or step can be adjusted by adding stacking risers underneath both ends of the step. A step aerobics class is often offered as a group exercise at gyms, though home workout videos are also available. Some gym-goers find that step aerobics classes are difficult at first because of the fast, demanding choreography. Finding the best class for you may seem daunting because of the sheer number of options available, but there are actions to take to help in making this decision.
To choose the best step aerobics class, first narrow the search by considering the overall exercise experience you would like. Certain gyms offer the step aerobics class a few times each day, and checking to make sure these classes fit into your daily schedule is an important issue. Decide if you would like to incorporate other types of classes or individual cardio and weightlifting machines into your weekly exercise regimen; then, learn all that each gym or aerobics studio has available. For those who do not like a strict schedule or working out in group classes, a home video may work best.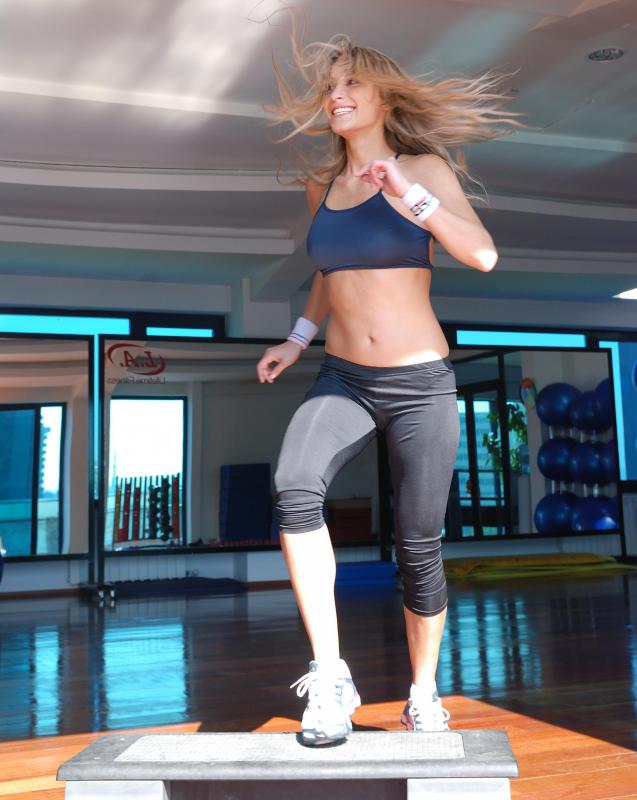 Many gyms allow potential members to try a class for free before deciding to join. Others may offer a day or week pass at a relatively inexpensive rate without the commitment of becoming a member. Once you have narrowed your search, take a trial step aerobics class for free or cheap at a few gyms.
Trying the class first-hand is possibly the best way to find the class that suits you, but remember that many fitness experts say that it can take up to six attempts at high-choreography group classes to feel comfortable. If you mess up, do not worry; know that the moves should get easier if you continue to attend classes. Different gyms employ different instructors, and you may feel various reactions from certain environments. When you take a trial class, you may base your decision simply off a gut reaction, but also look for an atmosphere that promotes motivation, unity, fun and energy.
Once you have taken a trial class, speaking with the instructor and classmates afterward can provide further clues as to how you will feel in this class for weeks and months in the future. Instructors should be welcoming and willing to answer any questions you have about the choreography. If you need them to go over certain moves with you, they should be happy to do so. Ask other members how they like the class, the instructors and the gym or studio.
Since you may not have the same class leader every time, you might learn which instructors are the most popular and why. Then, try to make those classes part of your exercise regimen. Taking these actions and considerations will help in choosing the best step aerobics class.