How Do I Choose the Best Secretary College?
Choosing the best secretary college depends on what type of secretary you would like to become. Secretaries who work in special fields, such as medical or legal secretaries, must have special training related to these fields. On the other hand, administrative assistants and secretaries in many offices do not even need to have a college degree. Even so, it can be helpful to have secretarial training in order to appear more desirable for the position, and a certification program provided by a secretary college can help achieve this goal.
In most cases, it is not necessary to travel far away in order to attend secretary college. Many local vocational and community colleges offer courses in secretarial skills. These courses usually end in a certification of some type, whether this relates to filing, typing, or any other aspect of being a secretary. Even so, taking these courses is useful only if potential employers see the classes as valuable and legitimate. When choosing a secretary college, it is important to find out not only about the jobs of former students, but also the attitudes of employers toward this particular certification program.
Working as a secretary does not usually require certification, but having some educational qualifications can be helpful when looking for a job. A college degree in any field can be applicable to this type of employment. Typing skills and work experience gained during college can be enough to achieve a secretary position. When combined with courses from a secretary college, this experience is more than sufficient for most administrative assistant positions.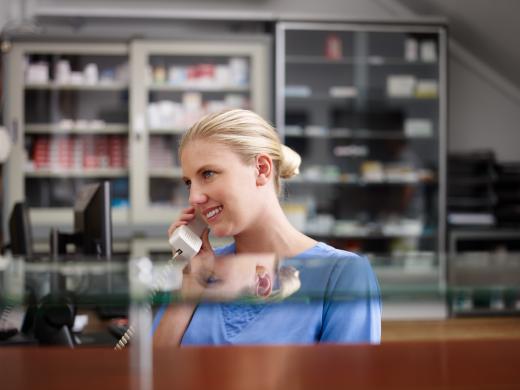 Becoming a legal or medical secretary is more difficult than becoming a general administrative assistant. Medical secretaries must often attend special courses that cover the details of working with medical insurance and complex records. Transcription is also often more difficult in medical contexts, and special machinery or computer programs may be involved. Professional certification is available for medical secretaries, and this certification is usually recognized on a national level.
Legal secretaries typically do not receive certification in secretarial arts, but rather in an area relating to the law. This serves to ensure that the secretary will be capable of handling the information a lawyer uses. In general, it is valuable to have a degree when trying to become a legal secretary even though secretary schools that address this profession are rare.
The best secretary school for a person's needs is usually the one that is most cost effective and likely to lead directly to employment. Most of the skills a secretary needs are straightforward and can be learned on the job. If at all possible, it is best to ensure that the secretary college involves significant amounts of practice, as this is the best way to improve secretarial skills.
AS FEATURED ON:
AS FEATURED ON:






By: Elenathewise

Secretarial colleges should cover modern filing and archiving procedures.

By: diego cervo

Secretaries who work in the medical field must have special training related to this field.