How do I Choose the Best Scrapbook Album?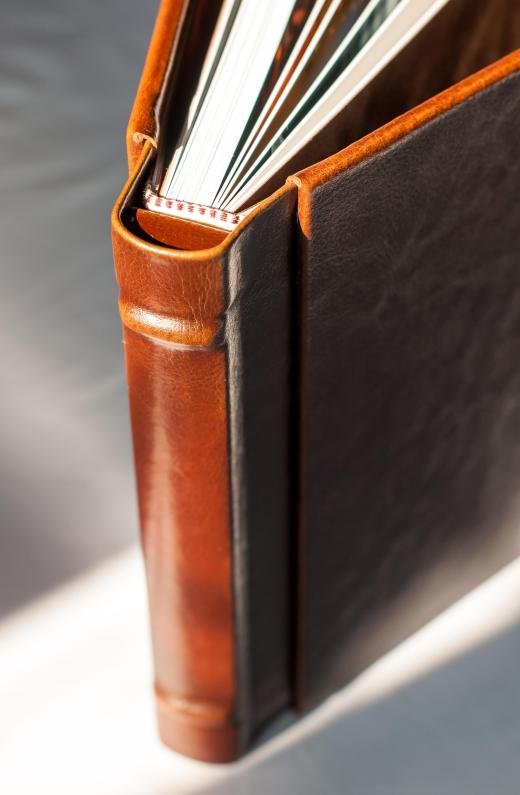 To choose the best scrapbook album, begin by considering the type of scrapbook you want to make. There are many different types of scrapbook albums available in various sizes and designs, with different types of pages to make it easier to customize the scrapbook. Start by determining whether you want to create a scrapbook album for a specific event and be done with it, or if you want to have the ability to add pages to the scrapbook over time.
Determining this first will help you to choose the best type of scrapbook album for you. A pre-made scrapbook, with pages permanently in the book, is a great choice for commemorating an event such as a wedding or a new baby. A scrapbook that features three rings to add new pages, or even just the capability to glue more pages into the book, can be more versatile, allowing for a scrapbook that will be kept over the years. In addition, consider the size of the scrapbook album you want.
Some scrapbooks are the size of a small book, and can be easier for storing on the shelf and nice to give as a gift. If you only have a few items to place in the scrapbook, then a smaller one will be a better option. Other scrapbooks are much larger, and can be great for displaying lots of pictures. They can also look nice when left out on display, such as on a coffee table.
When you are choosing a scrapbook album, consider the design of the pages as one of the most important features. Some scrapbooks feature clear plastic page holders; this way, the individual paper pages can be placed inside the page holders where they will be protected, and they can be removed and modified as needed. Be sure to choose a scrapbook album with good paper quality; some are designed to be used for mounting photos, ticket stubs, or other memorabilia, while others are designed to be written on as if in a journal. The paper should be sturdy enough to hold up over the years, as well as to accept glue from gluing photos into the book.
If you are making a scrapbook album as a gift, choose one that is designed for the occasion. There are many scrapbooks available in craft stores that are already designed for wedding memories, for example. The scrapbook can then be further personalized with other items such as stamps and stickers.


By: SilviuFlorin

Scrapbook albums come in different sizes and contain different kinds of pages.

By: Monkey Business

There are many pre-designed scrapbooks available in craft stores.

By: Photographee.eu

When making a scrapbook album as a gift, choose one that is designed for the occasion.

By: Sergey Mostovoy

Personal embellishments can be added to premade scrapbook albums to make them unique.

By: MaryPerry

An embosser is a popular tool for scrapbooking.