How do I Choose the Best Rechargeable Walkie Talkies?
When you are choosing rechargeable walkie talkies, try to find out how long different models might stay charged. Think about the type of batteries they require as well. Pick different models up to see if they are too heavy to carry long distances. You might also want to know what the range limitations of these two-way radios before purchasing them.
The amount of time a hand-held transceiver might be operable after it is fully charged can vary from one model to the next. Some types may stay charged for around nine hours, while others can be used for 24 hours before losing power. The length of time you plan to use your walkie talkie system can largely dictate your selection.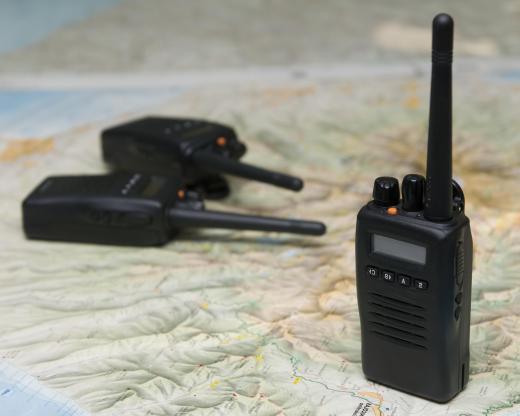 You might also consider the type of battery needed for different rechargeable walkie talkies. Some models may only operate on the Nickel Metal Hydride (NiMH) batteries that come with the radio. Others may use these as well as disposable alkaline batteries. In the event you may not be able to charge the device, being able to use alkaline batteries can allow you to continue to use it until you can recharge.
Think about the weight of the rechargeable walkie talkies you are considering. This is so you do not get too tired when you are transporting them. If they are very large or bulky, see if they come with a carrying case that you could strap onto a belt in order to make this easier for you. Similarly, if they have antennas that are very long, see if these retract when not in use.
Try to determine where you might use this equipment as well as what type of terrain is in that location. This can play a part in finding rechargeable walkie talkies that have an adequate range. Generally speaking, the more expensive the hand-held radio is, the longer the operable distance between units. If you only need to cover a small area, you might be able to purchase a cheaper set of radios than if you need them to cover larger distances.
Rechargeable walkie talkies can be a wise investment for you to make whether at home or at work. This is because they are usually sturdy pieces of equipment that can be used for a variety of purposes, both indoors and out. If you take the time to choose wisely, you can likely use these radios for many years to come and under many different circumstances.
AS FEATURED ON:
AS FEATURED ON:






By: Tandem

Walkie talkies may be used to communicate with others over long distances.