How do I Choose the Best Physiotherapy Program?
The best physiotherapy program can be evaluated by researching the following five items: different education options, accreditation, industry partnerships, alumni graduation statistics, and faculty quality. A physiotherapy program is offered at both the college and university level. A physiotherapist is a member of the health services team, helping people recover from bone and muscle related injury or surgery. A physiotherapy technician works in the guidance of the physiotherapist, providing support at a practical level.
The main difference between the two programs is the length and depth of education. A physiotherapist must attend university, completing a four-year program. A physiotherapist technician attends community or career college for two years. The career options for advancement for a technician are limited without further education.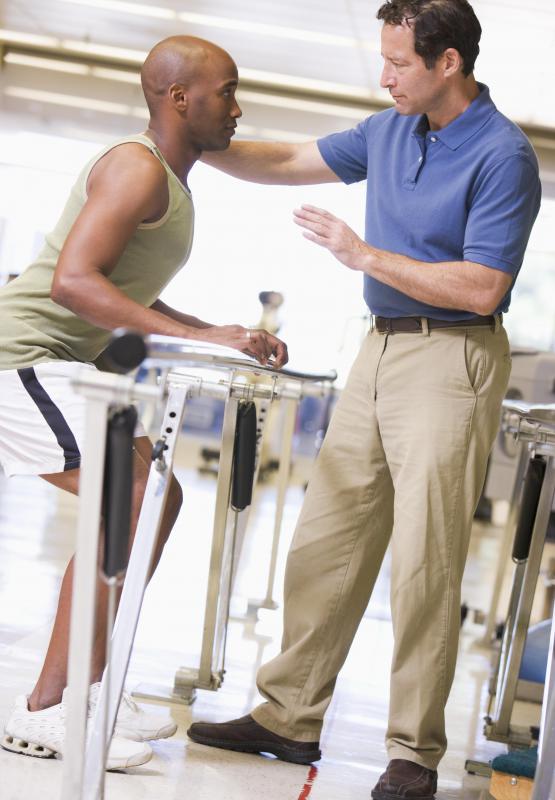 Take an honest look at the marks you have earned in high school science courses. Think about the level of effort that you are willing to put in and decide which path is best for you. The best physiotherapy program is one that you can complete successfully, in the standard time, and allows you to start a career in physiotherapy.
Accredited physiotherapy programs have been evaluated by an independent agency, authorized by the government. This agency is responsible for reviewing the quality of academic programs and administrative policies to ensure that they meet a minimum standard. Courses completed at an accredited school are transferable to other educational institutions, and can be used when upgrading your skills, later in your career.
Many physiotherapy programs have close connections to hospitals, rehabilitation centers, and long-term care facilities. These relationships can result in well-known guest speakers, opportunities for work terms, and chances to interact with hiring managers. Connections to industry help the school ensure the course content is relevant, accurate, and has application in real life.
Every post-secondary school maintains statistics on graduate employment rates. This information is collected at three-, six-, and 12-month intervals and provides insight into the impact of the education program. The level of detail varies, but typically includes current job title, starting salary, full time or part time, type of industry, and if the job is training related. The best physiotherapy programs will have a high alumni employment rate, regardless of the level.
When selecting a physiotherapy program, take the time to review the credentials of the faculty or teaching staff. The actual course instructors should be experts in their respective fields and have relevant industry experience. Avoid any school that is unwilling to discuss the background and qualifications of its teaching staff.