How do I Choose the Best Patio Chair Sets?
One of the best ways to enjoy a patio space is to buy patio chair sets that will allow guests and homeowners to have meals, drinks, or casual conversation in the space. To choose the best patio chair sets, first determine your needs: you may want just chairs, or you may want chairs and a table. Determine how many chairs you will need for the space, and be sure to consider the conditions the furniture will regularly be subject to. In rainy areas, for example, you will want to consider patio chair sets that are highly weather-resistant and easy to clean.
The materials used to make the patio chair sets will have a significant impact on both the aesthetics of the sets as well as the quality and cost of the sets. Consider different materials in terms of weather resistance, aesthetics, strength, and cost. Wood, for example, is a fine choice of material for patio chair sets, but only if you choose the right type of wood. Cedar and teak are common choices because they are naturally beautiful, and they are naturally resistant to weather damage, but you will pay more for such chairs. Less expensive, lower-grade woods will save you money, but you may find yourself with rotted chairs after only a few years.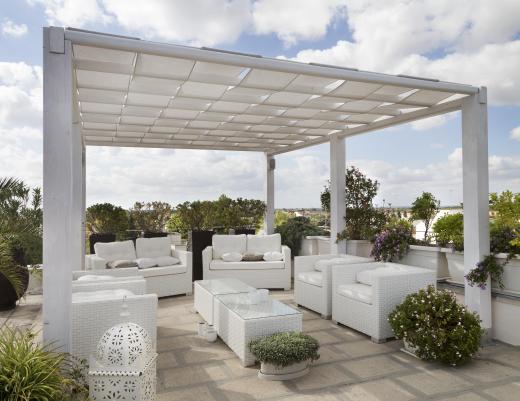 Of course, you will want to consider patio chair sets that fit the aesthetic of your patio as well. This may mean choosing a wrought iron set, which will cost more but be durable and visually appealing, or it may mean simply choosing plastic chairs that are inexpensive and easy to store when not in use. If storage is an issue for you, choose lightweight and/or folding chairs that can be moved easily and stored in tight spaces. If it is not an issue, and the furniture will stay outside year-round, consider heavier duty patio chair sets that will not get knocked over in the wind or damaged due to exposure to the elements.
If the chairs you are considering will be upholstered, be sure to carefully consider the materials that are used to construct the cushions. Synthetic materials are usually best for outdoor applications, as they are often water-resistant and easier to clean than natural fibers. Nylon is a good choice because it is both durable and resistant to water damage. The cushions should either be permanently secured to the chairs, or they should be temporarily secured properly so that cushions do not shift while in use.
AS FEATURED ON:
AS FEATURED ON:






By: brunobarillari

A patio chair set should fit the aesthetic of one's patio.