How do I Choose the Best Paternity Test Kit?
Modern paternity testing is a remarkably accurate process, which is now widely used to determine blood relationships. There are many different types of paternity tests available. Figuring out how to choose the best paternity test kit will be determined in many cases by how the information garnered from the test will be used.
If legal proof of paternity is required, a typical home paternity test kit may not be suitable. This is due to chain of custody issues. For legal proceedings, proof is given to show whom was tested, who did the testing, who handled any of the samples or information, the type of testing done, and the precise results. Each step throughout the process must be thoroughly documented.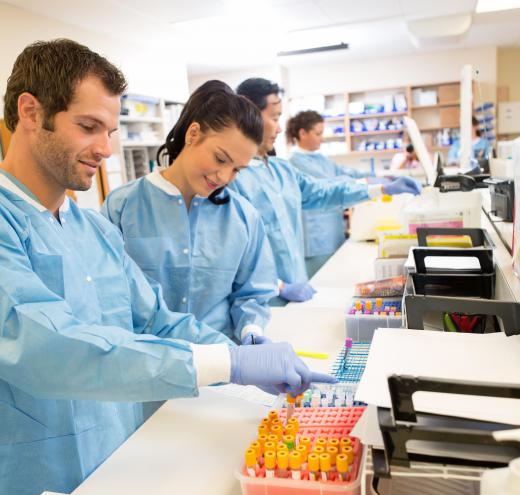 For personal information, a home paternity test kit is usually acceptable. While there is no chain of command, it isn't typically necessary. Either the person being tested or the one seeking the test can collect samples and ship them to a lab. The gathering process will be done following specific instructions. The tests are said to be as accurate as those used in legal proceedings.
There are some home paternity testing kits that do provide for chain of custody. In this case, an outside witness will be necessary. There is no guarantee that a specific court will find the results admissible, so it is important to have the paternity testing company approved in advance.
Where a witness is required, the witness must offer proof of his or her identity. He or she will then take the samples or witness the collection of the samples, as well as completing and signing any necessary paperwork. The witness will then seal and ship the samples to the lab. The people being tested must also prove positive identification and may be required to complete and sign paperwork as well.
To choose the best paternity test kit, look for one that contains not only clear instructions but also provides the tools needed for sample collection. Seek a paternity test kit that explains the testing process as well as the results. Some testing companies test the results more than once to ensure accuracy. Some do testing on samples from the child, the father, and the mother or another relative, rather than only father and child.
Make sure that the paternity test kit company will do what you want with the samples and results. Some will destroy both immediately after you receive the results. Others will archive samples, results, or both. The costs associated with a paternity test kit tend to be comparable, so quality, timeliness, accuracy, privacy, and dependability should be the main concerns.
AS FEATURED ON:
AS FEATURED ON:






By: Tyler Olson

Lab tests are usually the best option when legal proof of paternity is required.