How Do I Choose the Best Pancake Mix?
The right pancake mix can make it easy to prepare this breakfast food. Some varieties only require one ingredient to be added, while others call for two or three others. This means the availability of these ingredients can play a role in your decision. Regular and buttermilk pancake mix both produce different types of cakes, so it can be helpful to know the difference. There are flavored mixes that contain chunks of other foods, so you may want to consider the different options that are available.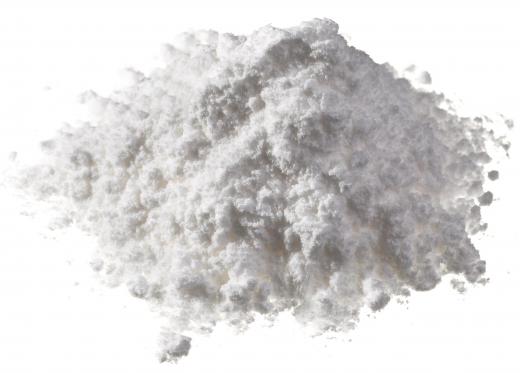 Directions for preparing pancake mix are typically found on the product's package, so it can be a good idea to read this information first. Some mixes only require water, but others could require eggs and milk instead. A product that requires only water can be convenient to take with you because you do not need to worry about transporting other ingredients. Another advantage is that this mix may come in pre-measured containers that allow you to simply add water, shake, and then pour the batter into a skillet. Mixes that only require water might not be as flavorful as those that require eggs and milk, however, so you might choose one of those types if you are making pancakes at home.
If you like very light and fluffy hotcakes, you may want to use a buttermilk pancake mix. These can be ideal when using a griddle or electric skillet to prepare them. If you sometimes like to make both waffles and pancakes, a regular mix could be a better choice. This type of pancake mix normally produces a thinner batter that is ideal for a waffle iron. The batter could also be used in a skillet, and will normally produce a somewhat thinner cake than if a buttermilk mix was used instead.
You may not always want to eat traditional pancakes, in which case chocolate chip, blueberry, or strawberry pancakes might be better. Some mixes already have bits of candy or fruit. Many times, the only ingredient you need to add is water so it is very easy to mix up a batch. If you are not sure whether you like a particular flavor, you may want to buy a small package of mix that is designed to make between four and six pancakes so you can try that type of hotcake before buying a large box of pancake mix.


Waffles made with pancake mix.

By: HamsterMan

Pancake mix.

By: Yevgen Kotyukh

Pancakes mixes require one or more ingredients to be added.

By: Magdalena Kucova

For light and fluffy hotcakes, one can use a buttermilk pancake mix.