How Do I Choose the Best Organic Hair Gel?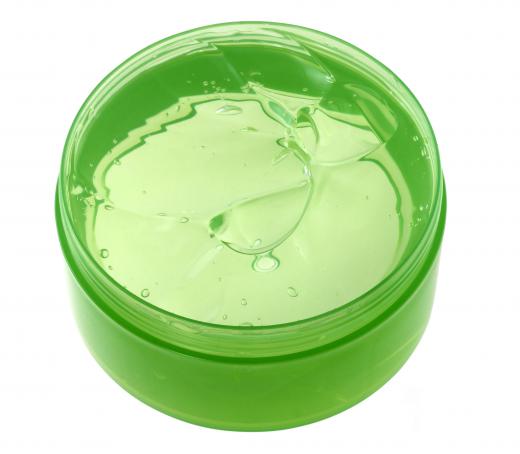 Organic hair gel is made from natural ingredients specifically meant to benefit the hair. Benefits of using this type of hair gel include better nourishment of the hair, less residue left behind, and a decrease in skin health problems. To choose the best organic hair gel for you, you will have to select a hair gel with ingredients that best meet the needs of your hair. In addition, you should also carefully read the packaging to be sure that the manufacturing of the product agrees with your beliefs if this is of concern. Some types of organic hair gel can also be made in the comfort of your own home.
Rather than just controlling hairstyles,organic hair gel made from natural materials can nourish hair. For example, the natural properties in vitamin E and aloe vera have been known to infuse hair with much-needed moisture in order to keep it from becoming dehydrated. An ingredient like soy protein can maintain hair's luster, while other natural ingredients can be included in an organic hair gel for fragrance properties. Researching organic ingredients can help you to discover which ones address your styling or health needs, and to choose a product that includes these ingredients.
Like their synthetic counterparts, organic hair gels can be manufactured for different styling techniques. Some gels can offer extreme hold on hair, while others can function more like a mousse. It's important to choose a gel that does exactly what you need it to do, otherwise, you may end up using more product than you have to on your hair. While organic hair gels are usually known for leaving less residue on the hair than synthetic hair gels, they can still be difficult to wash out if too much is used.
A benefit of using an organic hair gel is that it may help to reduce the amount of health problems from which its user suffers. Harsh, synthetic ingredients in beauty products have long been associated with a variety of healthy problems. Scalp irritation and hair loss are two of the most common problems that people who use hair products experience. Using natural hair gel can be one of the ways that these problems can be alleviated.
Manufacturers of organic beauty products are often conscious of environmental issues while creating their products. As such, you are likely to find products that are made with as little environmental impact as possible. Many manufacturers choose to make their products without testing on animals, and your purchase of products like these might further help animal and environmental causes. If these issues are of concern to you, be sure to read the information on the packaging to be sure that you agree with the manufacturing methods.
Be aware that you can also create your own organic hair gel at home. While you would have to gather all of the organic ingredients, the result can be a hair gel that is comparable to those purchased in a store. Making your own hair gel can save you money and can also be an enjoyable experience for those who enjoy this type of challenge.


By: sassyphotos

Aloe gel is a good moisturizer.

By: Alexandra

Organic hair gel offers better nourishment and less residue after use.