How Do I Choose the Best Natural Facial Treatment?
When considering a natural facial treatment, choose something according to your skin type, and read the ingredient labels to ensure it is gentle and non-abrasive. Some salons and stores offer demonstrations of products which may allow you to sample them before buying, so you may want to experiment with several types of treatments before settling on one. Consider a natural facial treatment and cleanser that is dermatologist tested and recommended, especially if you have sensitive skin or allergies. In addition, if you have a skin condition such as acne or eczema, consult your dermatologist for recommendations. Alternatively, you may prefer to make your own homemade natural facial treatment, using various recipes found online.
If you have combination skin, you might do better with two specially formulated all-natural products. For cleansing your face, choose something with pure ingredients that have natural skin conditioners, like aloe. Read the label carefully and avoid alcohol-based ingredients that are irritating or over-drying.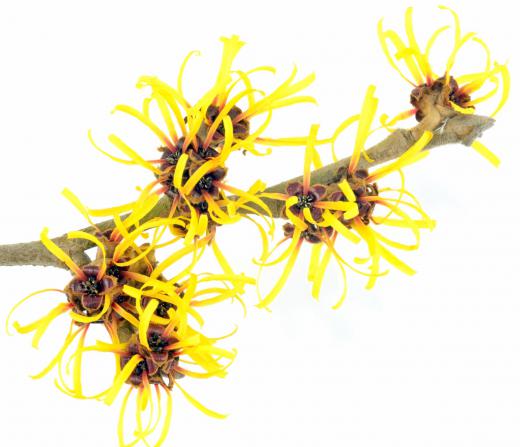 Those with sensitive skin or dry should take special care when choosing a natural toner or astringent and avoid ingredients such as witch hazel that can irritate skin. Instead, look for natural ingredients that gently cleanse, such as honey, cornflower and berries. Conversely, a witch hazel toner might be good for those with oily skin. A natural facial treatment is not usually made with synthetic fragrance, but may have an invigorating citrus scent instead.
There are natural and organic skin products that are typically available in beauty supply stores and pharmacies. Remember that just because a product is labeled as "natural", this does not guarantee a person will not have a negative reaction or allergy to the ingredients. If possible, ask a cosmetician or associate at the cosmetic counter if you may try a sample first. Use only a small amount in an inconspicuous area to ensure you are not sensitive to the ingredients.
Making your own homemade natural facial treatment may be a good option, as you may control the ingredients being used. In addition, preparing your own natural facial treatment rather than buying commercial brands, may save you money. It is recommended to sterilize storage containers and make only enough that will be used right away, to avoid spoilage. If you want to remove dead skin cells and impurities, yet are concerned about the effects of exfoliation, try using a natural scrub made with almonds, oatmeal and honey. These ingredients can be combined with yogurt and mixed in a blender, to be used as a natural skin treatment that can leave your skin smooth and glowing.
Many people prefer honey-based ingredients when choosing an all natural facial spa treatment. Honey has antimicrobial properties and is nourishing to the skin. In addition, honey hydrates the skin naturally, so it may be a good choice for dry or flaky skin.
AS FEATURED ON:
AS FEATURED ON:






By: dianamower

The witch hazel plant provides the astringent used in many toners for oily skin.

By: naka

More commercial spas are now offering natural and organic product lines.