How Do I Choose the Best Men's Shower Gel?
The most important part of choosing a men's shower gel is determining exactly what it is you are looking for: gels come in a variety of sizes, scents, and textures. Without some sense of your specific needs, the variety of available products can be overwhelming. Take stock of your shower habits before heading to the store to make finding the right match as simple as possible.
Purpose is the first thing you should consider. Shower gel for men is commonly presented in 2-in-1 or even 3-in-1 formats that combine shampoo, conditioner, or shave gel with the basic soap. Combined gels work well for men in a hurry and are popular for on-the-go showering, particularly at the gym. Just the same, many men prefer to use dedicated shampoos and conditioners and want to keep their soap separate.
Even amongst men's shower gel products that are soap-only, there is a great deal of variety when it comes to texture and purpose. Some gels are designed to be body scrubs and contain exfoliating beads or other rough particles that will slough off dead skin while cleansing. Men with sensitive skin may benefit from gels formulated with hypoallergenic ingredients or that include natural moisturizers like aloe, while men who lead active lifestyles may be more interested in a gel that promotes itself as both cleansing and deodorizing. If you have a basic sense of your needs, you will have an easier time identifying the main contenders.
The next thing to think about is smell. Male shower gel is rarely as flowery as products designed for women, but almost always carries some scent. Smells can range from the intense to the understated, and the titles — like "ocean," "energy," or "lightning" — rarely give many hints as to what is inside. To avoid being disappointed, open the caps of any shower gels you are considering in the store and take a sniff. Men's shower gel scents rarely stick to the skin after a shower, but an unappealing scent can detract from the experience.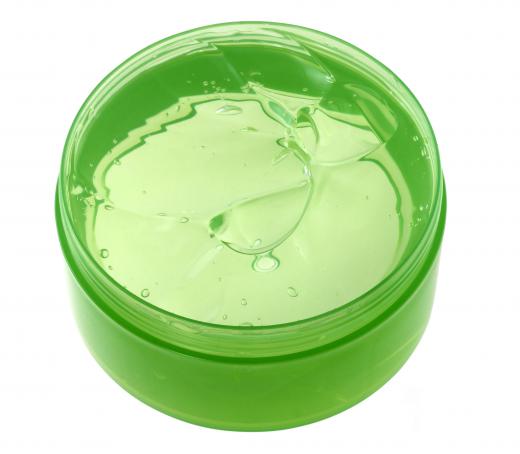 Deciding how much you want to spend is also a factor. The price points of men's shower gel products run the gamut from bargain to designer. Setting a budget can help you narrow down the options. You can also look for trial or travel sizes of gels that you are not sure about to try them out before committing to a entire bottle. Small bottles of men's shower gel are usually inexpensive and can be a good way of testing out a variety of similar products side by side.
AS FEATURED ON:
AS FEATURED ON:






By: Dessie

Bottles of shower gel.

By: silver-john

Shower gels are used to clean the body during a shower.

By: sassyphotos

Aloe gel is a good hypoallergenic moisturizer.

By: magann

Skin type should be considered when purchasing men's shower gel.

By: gosphotodesign

Combined shampoo and conditioner shower gels work well for men who are in a hurry.