How Do I Choose the Best Mascara?
The choice of mascara is a very personal one, as many people have differing concerns about this cosmetic. When selecting one for yourself, you should take into consideration any special eye health issues that you have, such as allergies or contact lenses, what you want the mascara to do for your lashes, and what color or colors are most appropriate for you. You should also consider the affordability of any mascara that you purchase. Many companies sell or offer trial sizes, which you can use to help you decide which meets your needs.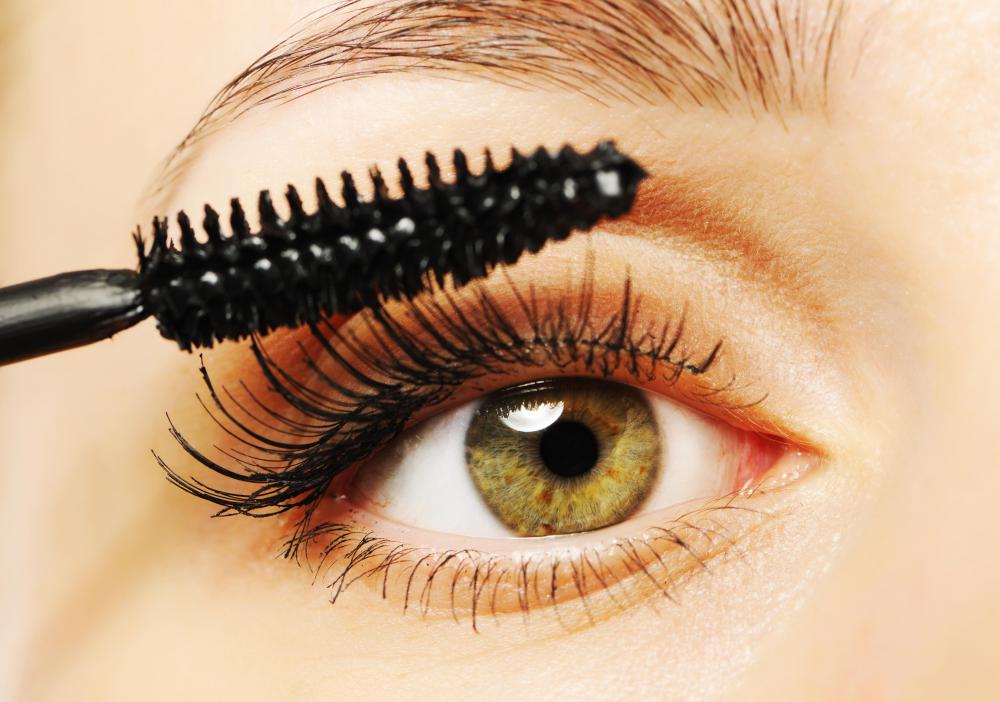 If you have sensitive eyes or wear contact lenses, you will typically need to be careful about selecting mascaras. You may find that some brands can trigger allergic reactions, so it's important to read ingredient labels and to try samples before investing in full-size products. If you wear contact lenses, you may wish to avoid thickening mascaras that contain fibers, which can get into your eyes and under your contact lenses. Waterproof versions may also present problems if they flake off into your eyes. Many makeup experts recommend that those with sensitive eyes or contact wearers choose basic, non-waterproof mascara for everyday wear.
Other considerations include your lifestyle and the type of look that you want to achieve. Although waterproof mascara is not usually recommended for everyday wear, as it can be difficult to remove and this can cause your eyelashes to break off, it can be a good option if you are concerned about perspiration or humidity causing your makeup to run and smear. It can also be a good option for emotional occasions, such as weddings or funerals. If your eyelashes are very sparse, you may wish to choose a volumizing mascara that can build both lash length and thickness. As far as colors go, many women look best in black, though those with fair skin and light hair may find that brown is more flattering.
Mascara is typically available in a wide range of prices and can be purchased at drugstores, supermarkets, as well as department stores and boutiques. Your budget should determine the brand that you purchase, though you should also make sure that you like the way it works. You may find that some inexpensive brands work as well, or nearly as well, as more expensive, luxury mascaras. To save money, you may wish to use an inexpensive brand for everyday wear but then use a more expensive, higher-quality mascara for special occasions.