How Do I Choose the Best Lipstick for Olive Skin?
The best lipstick for olive skin is often one to two shades darker than your natural lip color. You can determine if the shade will work for you by testing the color on one lip or holding up the packaging to bare lips. When looking for a bold shade of lipstick for olive skin, testing out the product by swatching or on your lips without any other makeup on to give yourself a good idea of how well you can pull off the color. It is also important to keep in mind the temperature of your skin color. Most with olive skin have warmer, golden undertones, and tend to look best with warm shades of lipstick, although those leaning more towards a neutral or green base should avoid overly warm lipsticks.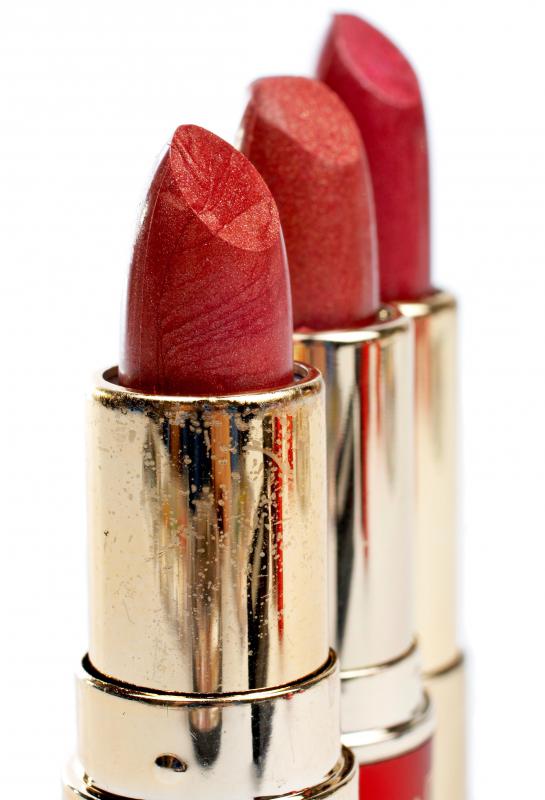 On a day-to-day basis, lipstick should typically enhance the natural color of your lips rather than changing it. The easiest way to pick a lipstick for olive skin to suit this purpose is to apply the product to either the top or bottom lip, leaving one lip bare. If the shade is slightly richer than the bare lip, the lipstick is typically perfect. When shopping in areas where testers are not available, simply hold the colored portion of the packaging, often located on one end of the tube, to your bare lips, preferably in natural light. In most brands, the color of the tube is true to the shade, and this will give you a good idea of whether the lipstick suite you.
Choosing bolder shades of lipstick for olive skin that are dramatically different than your natural lip color can be difficult. Swatching the product on the inside of your wrist will give you a good idea of how well it plays off your natural skin tone if you are wearing foundation or powder when shopping, as these products can make the lipstick look slightly different, especially without natural lighting. If you aren't wearing foundation, test out the products on your lips. Testing lipstick with a bare face is often the best way to choose a shade that goes well with your skin tone, as foundation and other products can often slightly mask the natural undertones of your skin.
The base tone of your skin is also important when choosing a lipstick for olive skin. While most people with this skin shade tend to have some amount of gold undertones, many lean more towards the green side of olive, which is often considered a cool color. If you have very gold olive skin, lipstick with a peach, orange or gold undertone will typically suite you well. Those with cooler skin should lean more towards neutral or even cool shades, such as blue-based reds, cool pinks, and mauves.
By: bst2012

A woman with olive skin applies lipstick.

By: Rafa Irusta

Lipstick should be one or two shades darker than the user's lip color.