How Do I Choose the Best Light Bronzer?
Choosing the best light bronzer requires what product is best for your skin type and tone, eye and hair color, and how much shimmer you want to create. Products come in powder and cream form, and each react differently with skin types. Your complexion shade and undertone can help you to narrow your choices even further. If you desire a shimmery look, mixing light metallic products with translucent formulas can also help you to create a more balanced look.
A light bronzer may come in cream or powder form, with the type that you choose depending partially on your skin type. Powder works well to balance a face with excess oil. A translucent, light bronzer should be applied with a big, soft, face brush to create a fresh, sun-kissed look. Powders in a matte finish should be avoided or applied sparingly, however, as they will create less intensity.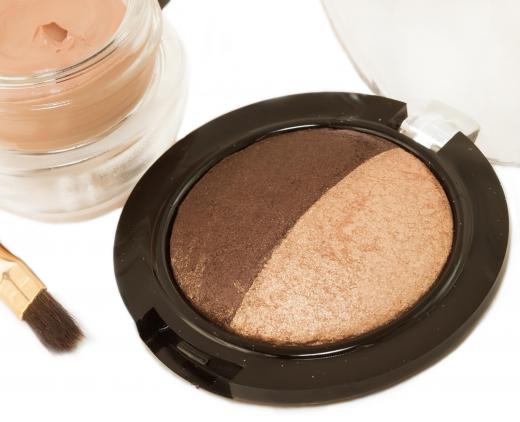 If you have dry skin that tends to flake when powder is applied, choosing a cream or stick bronzer is typically the best option. These versions also come in matte or sheer formulas, so it's important to read the label carefully to avoid a heavy product. They will need to be applied with your fingertips very lightly and blended thoroughly with a sponge. Otherwise, creams can give an uneven or heavy finish.
Choosing the correct shade for your light bronzer helps to give the makeup a "barely there" appearance. Selecting a hue that's too dark for your complexion may result in a heavy, false-looking application. Looking for a color just one shade darker than the skin on the back of your hand typically works best. If you have a darker complexion, you may have to shop around for a shade that fits well or combine two shades for the perfect match.
Your hair and eye color as well as skin tone also determine the best light bronzer for you. Shades with a rose or peach tint typically look fitting on people with lighter complexions and eye color with blonde or red hair. Olive skin tones benefit from earth, copper, and bronze colors, while warmer, chocolate browns go well with darker complexions that have blue undertones.
Shimmer can add a touch of glamor or increase a bronzer's dewy effect, depending on the product's quality and how the shade blends with your skin. Light bronzers with touches of gold can work if applied very judiciously, ideally only on certain parts of the face like the cheeks, nose, and chin where the sun would naturally hit. You can also mix it with a sheer bronzer for a light, sparkly complexion. Bronzes with a touch of peach, pink, or red also add color and can be combined with other products.
AS FEATURED ON:
AS FEATURED ON:






By: anakondasp

Bronzers come in either cream or powder form.