How Do I Choose the Best Leash and Harness?
It can be difficult to choose the best leash and harness for your pet. One way to start is to decide on the size of the leash and harness you want — or your pet needs — and whether you want extras such as a quick-release snap hook or reflective trim. You can choose from several different materials for a leash and harness, so you should be able to find something that suits both your budget and your lifestyle.
It is not difficult to decide if your pet needs a leash and harness rather than just a leash and collar. If the animal is well-behaved and does not pull when you go for a walk, then you may not need a harness. Dogs that have short, fat necks, such as bulldogs and Pekingese, and animals such as cats and rabbits can benefit from a leash and harness because collars can slip off easily and hurt the animal in the process. Energetic dogs such as Dalmatians and border collies often pull, which makes it difficult for owners to control the dogs and can lead to injury. Small breeds such as Maltese also can easily slip their collars, making a harness a safer way to handle such dogs.
The types of leashes to go with the harnesses vary greatly. A leash can be as short as 1 foot (30.5 cm) but leashes used for taking your dog to the park usually are in the 4- to 6-feet (1.2- to 1.8-meters) range. One thing to keep in mind is that a longer leash allows your pet more freedom but offers you less overall control. Thinner leashes are lighter and work well for small animals and those that are well-trained, while thicker leashes are stronger and heavier. Leash snap hooks should have a mechanism that will keep the snap hooks from popping open when walking the dog and, if it's important that you can take the leash off quickly, there are quick release snap hooks available.
When choosing a harness for your pet, you should be sure to measure your animal carefully, because harnesses come in several sizes. A harness that is too large will allow your pet to slip out, while one that is too small can cause injuries such as blisters. A handle may seem like an unnecessary addition to a harness, but it can give you a measure of control when needed and can allow you to easily pick up a small animal. Reflective trim can be a good addition to a harness, because it helps make sure your pet can be seen more easily, especially when walking at night.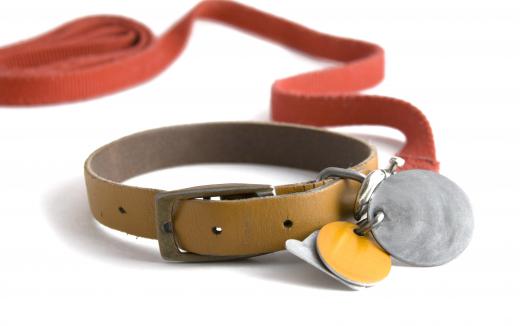 Nylon is one of the most common materials for a leash and harness and it usually is affordable. Nylon works well in any weather, including climates with high humidity, and is strong. Leather is another common material for a leash and harness, especially for large animals, but it usually is much more expensive than nylon. Leather can be used in any climate but must be conditioned in areas with high humidity or when used in wet weather so that the leather does not crack and become brittle. Chain leashes often are used on large animals in tandem with leather harnesses because of the added strength for animals that pull or chew the leash.
AS FEATURED ON:
AS FEATURED ON:






By: hui_u

Pet rabbits may benefit from a leash and harness.

By: biglama

Bulldogs may greatly benefit from a leash and harness.

By: Alexey Stiop

There are various factors to consider when choosing a leash and collar.

By: Sergey Lavrentev

A harness is a safer choice than a collar for a Maltese.