How do I Choose the Best Large Exercise Ball?
With the many different brands and styles of large exercise ball available, it can be difficult to determine which model is best for you. Before purchasing a large exercise ball, it may be helpful to consider a few key points. First of all, you should establish a price point. Next, you should determine which ball size and durability level will best fit your body shape, and consider whether you would like a burst-resistant ball. Finally, you should choose a model in a color you like.
Perhaps the best first step when choosing a large exercise ball is establishing a price point. Decide how much you wish to spend on your ball. Setting a maximum budget may help you to narrow down your choices by eliminating models which are too expensive.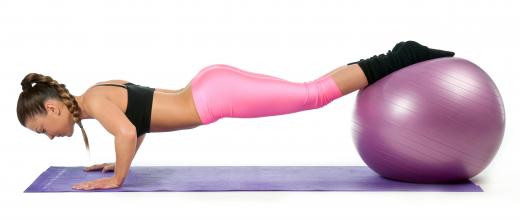 Once you have decided how much you wish to spend on the ball, you should determine which models will best suit your body shape. Size should be one of the most important considerations when selecting a large exercise ball. Balls that are too small usually do not offer an adequate challenge to the core muscles, while those that are too big can make balancing very difficult, thus interfering with your form as you perform a workout. The best ball diameter for you depends upon your height. When seated on a properly-sized ball, your thighs should be roughly parallel to the floor.
Durability should also be an important consideration when selecting a large exercise ball. Generally, you should look for a model made from a somewhat thick material which is firm yet springy when fully inflated. Selecting a sturdy material may be especially important for exercisers who are significantly overweight.
You may also wish to consider whether you want a burst-resistant product. Like any inflatable ball, exercise balls are prone to punctures. To prevent injury, you may want to select a product which is designed to deflate slowly rather than to burst suddenly in the event of a puncture.
After narrowing down your large exercise ball options to products which fulfill your price, size, and durability needs, your last consideration should be the ball's appearance. Depending on your personal taste, you may wish to select a ball in a bright color or graphic pattern. Alternatively, you may prefer a model with a simpler appearance. For the widest selection of large exercise ball models, you may wish to browse Internet-based sporting goods retailers.
AS FEATURED ON:
AS FEATURED ON:






By: bertys30

Exercise balls can be used for pushups.

By: yanlev

Determine which size of exercise ball will best suit your body shape.