How do I Choose the Best House Thermostat?
Deciding which house thermostat is best for your needs involves considering your comfort level in dealing with technology, your daily schedule, and your budget. If you are purchasing the thermostat to control an existing heating system, be sure to buy a model that is compatible. Programmable thermostats offer potential energy savings, but they tend to be more complicated to use than non-programmable models and typically cost more. If you are seeking a "set and forget" house thermostat, some programmable models include built-in programs that efficiently control heating and cooling. Certain models allow you to alter these pre-installed programs to more closely match your schedule.
Whether you choose a manual thermostat or a programmable type, accuracy is important. Look for models that get high ratings for accurately monitoring the ambient temperature. Designs with an easy-to-read display are also often a good choice, especially if the house thermostat will be installed in a poorly lit area. Large, legible displays and programming prompts make a programmable house thermostat easier to set up.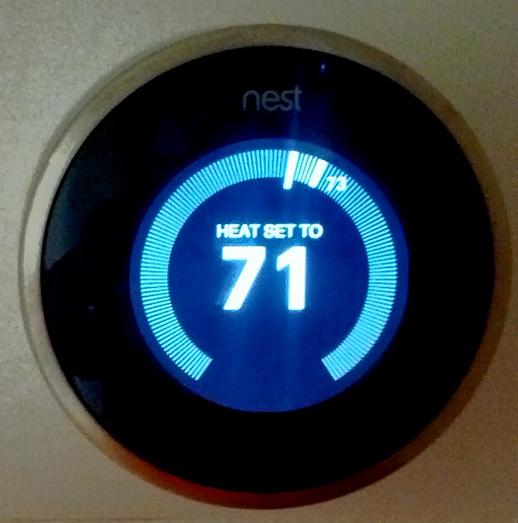 When retrofitting a thermostat to an existing heating system, confirm that its wiring and design are compatible. Low voltage thermostats are usually used for controlling central heating and cooling units. Line thermostats most often are used with zonal heating systems that have individual heating units, such as baseboard or wall-mounted heaters, designed to warm specific areas of the home.
If you decide to purchase a programmable house thermostat, look for models that are simple to program and that match your schedule. A 7-day model allows setting custom heating and cooling schedules for each day of the week. Other designs allow setting unique schedules for weekdays and weekends and are often designated as 5-2 models. A 5-1-1 model permits setting three programs: one for weekdays and two unique programs for weekend days. Most include override controls to suspend your programs temporarily if needed.
A battery backup will save programs in the event of a power failure. Other convenient features found on some models include reminders to change air filters as well as alerts that indicate malfunctions in the system's operation. More sophisticated designs offer touch-screen programming and adaptive recovery technology that calculates the time needed by the system to reach the next programmed setting. This latter feature, sometimes called smart recovery, helps ensures that, for example, by the time you get out of bed the temperature will have reached the level you set. Reading online customer reviews can be a useful way to find the most user-friendly models.
AS FEATURED ON:
AS FEATURED ON:






By: Bill Bradford

A programmable thermostat.

By: http://www.homespothq.com

Line thermostats are typically used with baseboard or wall-mounted heaters.