How Do I Choose the Best Head Band Headphones?
One of the first things that you should consider when choosing head band headphones is what you will be using them for. High-quality headphones will also usually have a broad frequency range, and therefore have good sound quality. You may also want to consider headphones with good sound isolation features. Also, some headphones are wireless, and some may fold for easy storage. Testing a pair of headphones is usually recommended before purchasing them.
If you are looking for head band headphones for listening to a personal CD or MP3 player, you will not usually need to spend much money. Regular headphones should suit you just fine. These are typically small and lightweight.
Professional head band headphones are usually much larger. They are also typically much more expensive. Many disc jockeys or musicians may wish to choose these types of headphones, however, since they offer much better sound quality.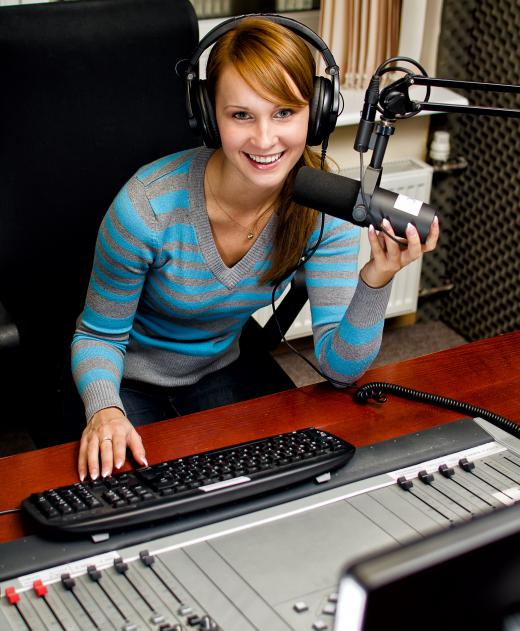 Sound quality is typically affected by the headphones' frequency range, which is usually measured in hertz (Hz). Sometimes, different musical notes can be heard at different hertz. Headphones with a wide frequency will typically allow a listener to hear a wide range of sounds. Adult humans, on average, are typically capable of hearing sounds between 20 and 15,000 hertz.
Head band headphones with good sound isolation are able to keep you from hearing others and others from hearing the sound in your headphones. Headphones that sit flat on your ear will usually have poor sound isolation. Headphones with a padded ring around the edges of the speakers, on the other hand, will usually have very good sound isolation. This padded ring helps create a seal, which keeps the sound coming through your speakers in and outside noise out.
You should also examine the headphones' cord before purchasing them. Make sure that it is long enough, for instance. Also, keep in mind that headphones with just one wire going into one speaker of the headphones are less prone to tangling than other types of headphones. Wireless head band headphones, on the other hand, will allow you to move around freely without worrying about the cords tangling.
Folding head band headphones may also be a good choice. These types of headphones are usually divided into a few segments, with a hinge between each segment. When the headphones are folded, they can easily fit into a pocket or a purse.
Most experts recommend testing a pair of head band headphones before purchasing them. Many large electronics stores will allow shoppers to do this. If you do not enjoy the sound quality of a particular pair of head band headphones, many stores will also allow customers to return then within a certain amount of time.
AS FEATURED ON:
AS FEATURED ON:






By: dmitrimaruta

Disc jockeys often select professional headphones.

By: Monkey Business

Wireless headphones may be used to listen to television audio without disturbing others.

By: jeninagy

Computer headphones now come in a wide variety.

By: Fotana

Head band headphones with good isolation are able to keep the user from hearing others.

By: Warren Goldswain

For those who are frequently on the go, smaller, lightweight headphones may be more suitable.