How Do I Choose the Best Glossy Lipstick? (with pictures)
Glossy lipstick is a great way to add some color and shine to the lips simply by using one product. Some people will also choose to make their own glossy lipstick by applying a coat of clear gloss over the bottom layer of lipstick. To choose the best lipstick, you will want to consider factors such as your skin tone, the other makeup you usually wear, and whether you want to wear the lipstick in the day or evening. Extra features of the lipstick, such as SPF to protect from sun damage or conditioning ingredients to soften the lips, might be nice as well.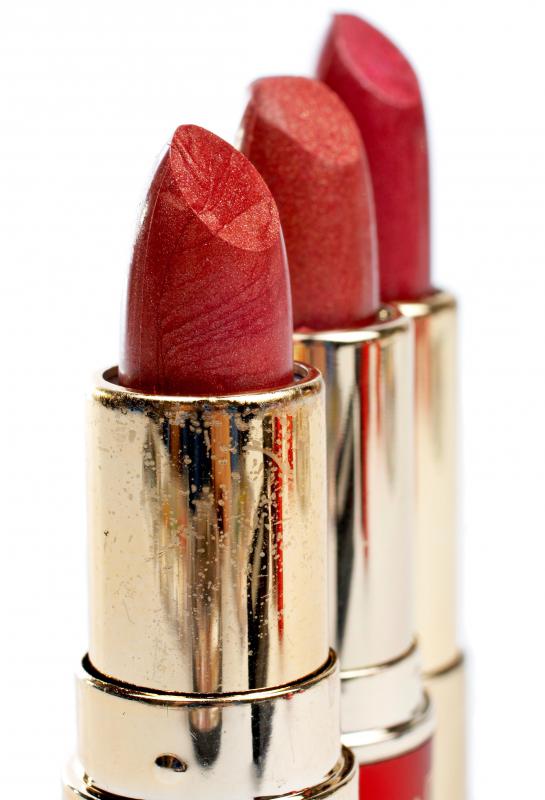 When you are choosing glossy lipstick, color is one of the most important factors. As a general rule, lipstick should only be a shade or two darker than your natural lip color if you will be wearing it in the daytime, such as at the workplace. For evening, it can be a bit darker. Either way, it is important to match the tone of the lipstick to your skin tone. If you have a cooler skin tone, look for a glossy lipstick with bluish undertones; warmer skin tones can purchase lipstick with red or yellow undertones.
Another thing to consider is the other makeup you usually wear. If you frequently wear a lot of dramatic eye makeup, you may want to choose a lighter shade of glossy lipstick so it does not overwhelm the face. If you normally don't wear much makeup, a slightly more dramatic shade of lipstick can help to perk the face up and make you look brighter. Longwearing lipstick is a god choice for many people, particularly in the darker shades; this often comes in a two-sided tube, with one side containing a lip stain and the other side containing the gloss that can be reapplied as needed throughout the day.
If you will be spending time outdoors, choosing a glossy lipstick with SPF can be a good idea, as the lips can be damaged by the sun just like the rest of the skin. Other ingredients such as shea butter or jojoba oil might be included to treat and condition the lips, similar to a lip balm. Some glossy lipsticks also contain small pieces of glitter in order to reflect the light even more, though some people find this to be overkill. There may also be natural or partially organic versions of glossy lipsticks available for people who are concerned about those issues.
A woman applies glossy lipstick.

Lipstick should be one or two shades darker than the user's lip color.

When choosing glossy lipstick, consider the color and whether it complements your skin tone.