How do I Choose the Best Gastrointestinal Stromal Tumor Treatment?
There are several factors to consider when choosing the most appropriate gastrointestinal stromal tumor treatment, including the location and size of the tumor, the overall health of the patient, and the patient's doctor's opinion. The most common types of treatments used are chemotherapy, radiation targeted therapy, and surgery to remove the tumor when necessary. Many patients with this disease also choose to implement alternative therapies into their treatment plan such as massage therapy, acupuncture, and acupressure. Gastrointestinal stromal tumors are the result of a mutation of the DNA, especially as it relates to the KIT protein. These tumors can be difficult for medical personnel to see in their early stages, often resulting in a serious and advanced case before detection for many patients.
In most cases, medical experts suggest surgery as an effective gastrointestinal stromal tumor treatment, especially in cases where the tumor is still relatively small. Surgery is a popular choice because it is the most effective option for removing the entire tumor mass quickly and efficiently. With the patient under general anesthesia, the surgeon will use techniques such as ablation, freezing the tumor, or eliminating blood flow to the tumor to remove the mass. In most cases, the patient can expect a short hospital stay and a few side effects from the procedure.
Two other forms of gastrointestinal stromal tumor treatment is chemotherapy and targeted therapy radiation. Chemotherapy consists of medications designed to kill or poison the mutated cells. Targeted radiation therapy is the use of radiation rays in very specific areas of the body closest to the tumor's location. These treatments are typically only used if the surgery option is counter-indicated for some reason, or the original attempt failed to remove all of the cancerous cells. Radiation and chemotherapy are employed when the condition has spread to other inoperable areas of the body.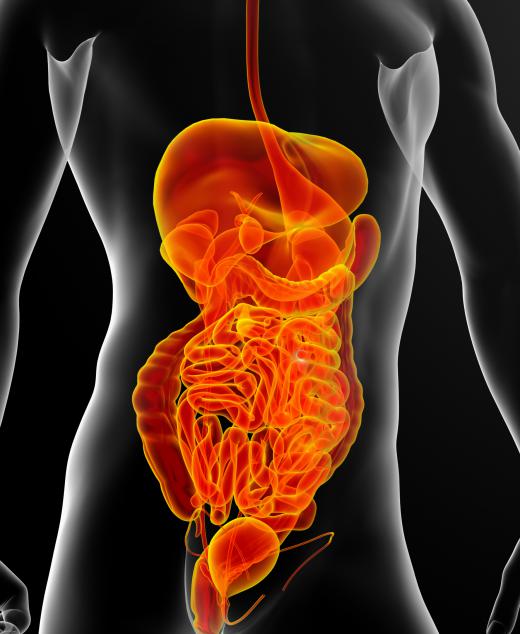 It is not unusual for patients undergoing gastrointestinal stromal tumor treatment to also engage in complementary therapies. Many find massage therapy useful for reducing stress and promoting relaxation during the sometimes difficult conventional treatments. Acupuncture and acupressure are also very popular alternative therapies used by patients with this condition. Some patients find diet modifications are helpful in encouraging improved overall health, and many of the foods suggested are known for cancer fighting properties. Green tea, berries, especially blueberries, and beans are believed to be helpful when added to the diet as well as ground flax seed, celery, and carrots.
AS FEATURED ON:
AS FEATURED ON:






By: tawesit

Chemotherapy is oftentimes used in treating gastrointestinal stromal tumors.

By: maya2008

Gastrointestinal stromal tumors typically develop in the wall of a person's gastrointestinal tract and attach to the outside of a nearby organ.