How Do I Choose the Best Foot Pain Treatment?
Choosing the best foot pain treatment starts by determining the cause of the foot pain. Several different conditions can lead to foot pain of varying severity, and the specific treatments for each type of pain may vary accordingly, especially if the pain is due to an injury such as a fracture. In most cases, the first foot pain treatment you should try is the RICE treatment: Rest, Ice, Compression, and Elevation. These actions help reduce swelling and promote blood flow to the affected area, and they can also help reduce pain.
Some of the most common injuries or conditions that will require foot pain treatment include injuries from a direct trauma, tendinitis, plantar fasciitis, and heel spurs. In many cases, using the RICE treatment is sufficient to reduce the pain and address the underlying cause, but in other cases, more aggressive foot pain treatment may be necessary. A fracture, for example, will often heal on its own if it is a minor fracture and you allow for plenty of rest, but if the fracture is severe, a surgery may be required to repair the fracture. A doctor may insert pins or screws, depending on the location of the fracture, to ensure it heals properly.
Conditions like plantar fasciitis may require only the RICE treatment, but for consistent or worsening pain, a doctor may recommend a variety of foot pain treatment options, such as more supportive footwear, a gait analysis to determine the cause of the plantar fasciitis, or even a minor surgery to address the issue, though surgery is considered a last resort because nerve damage may result. Steroid and anti-inflammatory medications may be administered, and a doctor is very likely to recommend calf stretching to address the problem. A brace for use when sleeping may also be recommended.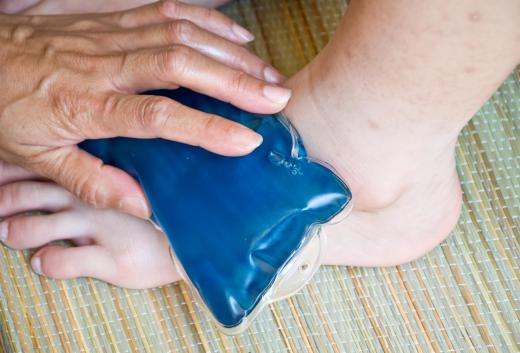 Tendinitis occurs when the tendons that attach muscles to bone become inflamed due to injury, irregular motions, or overuse. This condition can also be treated with the RICE treatment, and in more severe cases, anti-inflammatory medications may be administered. The most severe or chronic cases of tendinitis may be addressed surgically, though again, this is usually considered a last resort to avoid complications like nerve damage. You should consult a doctor to find out the best foot pain treatment options that will address the specific issue causing the pain. A diagnosis can be difficult or impossible to make without a doctor's consultation.


By: Jan Andersen

Soaking the feet may help with pain.

By: Burlingham

A doctor's consultation is needed to determine the root of foot pain before deciding on the best treatment.

By: andreaxt

A doctors consultation may include the need for an X-ray.

By: buffaloboy2513

Ice packs may help relieve foot pain.

By: koszivu

Foot pain treatment may include rest.

By: Allan Ferguson

Z-coil shoes are designed specifically to reduce foot pain.