How Do I Choose the Best Flea Powder?
If you have a flea problem in your home, it is important to choose a flea powder that will both kill the pests and be safe for you, your pets, and your furnishings. Some natural flea repellents, such as salt and borax, may work well without toxic side effects. If you choose a commercial flea powder, be sure to buy a product that has been safety tested for people and pets and be careful using it on rugs and furniture.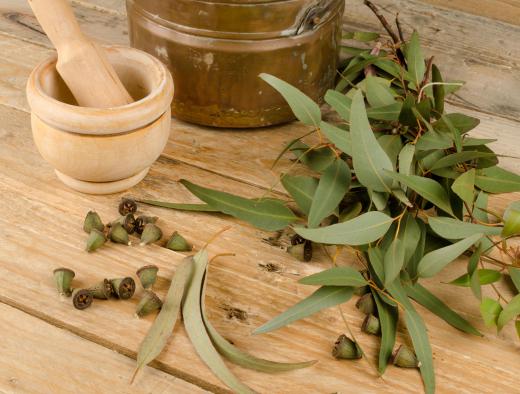 To choose the best flea powder for your dog or cat, you should use one that is gentle to your pet's skin. All all-natural flea powder might be best for a pet with sensitive skin or allergies. Be sure the flea powder you choose is safe for puppies or kittens if your pet is under a year old. If you aren't sure of which flea powder will be most effective for getting rid of fleas on your pet, consult with a veterinarian.
When applying a flea powder on your pet's coat, be aware that the animal may ingest some of the powder when grooming. For this reason, flea powders containing insecticides are not recommended. Look for organic products and ones that are plant based for the safest alternative. Herbal flea powders, which may be found at many natural food stores, are a good choice. You can also make your own from herbs such as eucalyptus, rosemary, or fennel.
Some flea powders are designed to be used on pets as well as carpeting and household fabrics. To be absolutely certain you are not using anything toxic around children and pets, you can make your own homemade flea powder from all-natural ingredients. You can begin by using ordinary table salt. This is a natural deterrent to fleas and may also destroy flea eggs and larvae. You can sprinkle some on fabrics, then vacuum thoroughly the next day.
Alternately, you can use some borax on carpeting and fabrics for natural flea control. Use caution, however, as borax should not be inhaled by pet birds and other small animals. You can also sprinkle salt or borax on your pet's bedding, but be sure to wash it the next day using warm soapy water.
If you purchase commercial flea powders, flea sprays or dips to use on your pet, be sure the products are veterinarian tested and approved. The same applies for carpet powder products. Not only does the product need to be gentle and safe, it must work by preventing re-infestation. A good product will prevent your pet and home from becoming re-infested for up to one year. For carpet use, be sure the flea powder will kill flea eggs and larvae as well.


Puppies may need a specialized flea powder.

By: Hemeroskopion

Eucalyptus is an ingredient found in herbal flea powders.

By: Oksana Kuzmina

A flea powder for kittens needs to be checked for appropriate use.

By: Cosmin Manci

It is important to find a flea powder that is safe for pets and humans.

By: Jiri Hera

Table salt can be used as a natural deterrent against fleas.

By: Gabriel Blaj

A veterinarian can help a person decide which flea treatment best for their pets.