How Do I Choose the Best Flea Exterminator?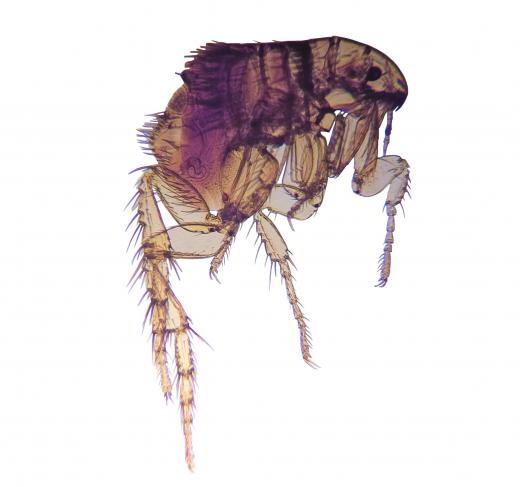 Getting rid of fleas on your own can be very difficult. If you hire an exterminator, be sure that he has experience dealing with fleas. Asking friends and family members for recommendations is one way to find a good exterminator, but you can also look in the phone book or online for local flea exterminators. Always check to make sure there are no complaints against a particular company, and make sure they are professional and willing to answer questions. Finally, ask them for information about the types of chemicals that they use as well as any guarantees they offer.
Always look for an experienced flea exterminator. Make sure that they have dealt with your type of situation before. This information may be in their advertisements, or you may have to ask.
Word of mouth is usually one of the best ways to find a flea exterminator. If your family members or friends have had a similar problem, ask them for a referral. Those that had a positive experience with a particular exterminator will usually be willing to share.
Sometimes, you may not be able to get a referral from someone you trust. In this case, you can look in a local phone book. A reputable flea exterminator will usually be listed. You can also do a search online for flea exterminators in your region.
Always make sure that companies do not have any complaints against them before hiring them. The Better Business Bureau (BBB) is one good place to look for this type of information. You can also check with local or state offices. Also, ask for a list of references. If a flea exterminator is not willing to share references with you, you may want to look elsewhere.
Look for signs of professionalism in a flea exterminator. A professional exterminator will have a professionally painted vehicle, along with an actual office. They should also be licensed and insured.
Ask several questions when you are looking to hire a flea exterminator. A professional exterminator with experience should be able to answer your questions thoroughly. Find out about what types of chemicals he will use. He should have an information packet for you to read. These chemicals should be safe for your pets and children, as well as yourself.
Also, ask about any guarantees that the flea exterminator may offer. These will usually not be for long periods of time. An exterminator should, however, guarantee that your home will be flea free for a short period of time. A few weeks or a few months is usually the norm.


By: Carolina K Smith MD

A flea.