How Do I Choose the Best Fire Warden Training?
If you have been nominated as a workplace fire warden, proper training is essential for you to be successful in this role. Some of the things you may need to learn include fire prevention and how to handle emergency situations. Learning about different types of firefighting equipment, such as fire extinguishers and sprinkler systems, is also helpful. Fire warden training should prepare you to inspect fire alarms and conduct fire drills so your organization will be prepared in the event of an actual fire.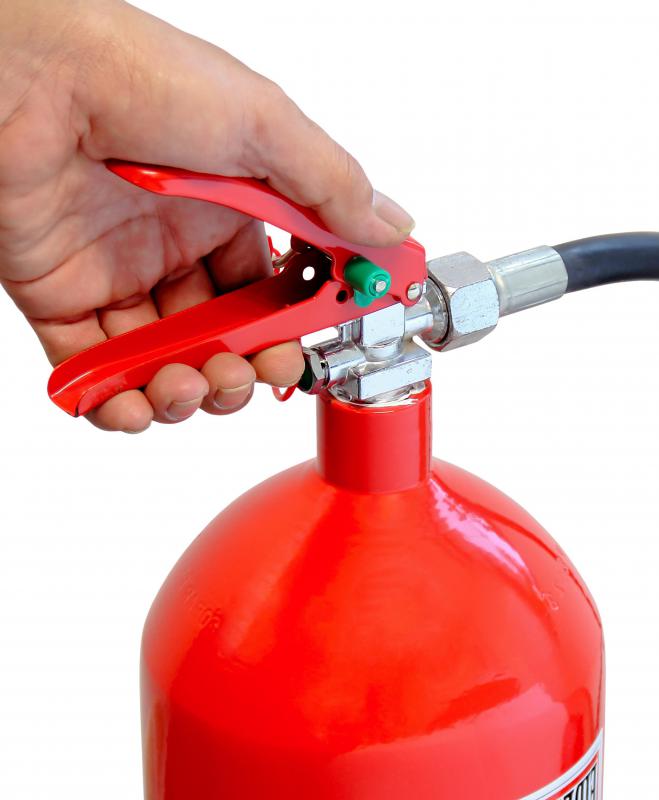 The amount of previous experience you have in this field can determine what type of fire warden training you need. For example, if you have previously worked elsewhere as a safety officer, you may have a good understanding of fire prevention and not need training in that area. If you have worked as a volunteer fire fighter, you may already have the knowledge needed to handle emergency situations. In the event you have no experience whatsoever, you may want extensive training so you will be able to grasp the basics of fire safety.
Even if you have previous fire fighting experience, you may still need to learn about safety equipment. This is because things such as fire extinguishers and alarm systems are constantly evolving, and you will want to make sure you know about the latest models. Doing so can ensure you are ready to use this equipment in the event of a real-life fire in your building.
As a fire marshal, you may be asked to inspect items such as sprinkler systems and hydrants. If this is the case, you will want to choose fire warden training that will prepare you to do so. It is a good idea to find out if you will study technical manuals or conduct practical hands-on exercises during the course of your studies. You may prefer one method over the other, depending on your background and personal style of learning.
Fire warden training should ideally cover local fire codes and safety regulations. This is because you may be visited by a fire chief in your area who will check to make sure these statutes are being followed. Becoming familiar with these laws can help you ensure your workplace is in compliance, thereby avoiding the fines and penalties that could ensue if violations were discovered.
It can be helpful to know how often you will need to take refresher courses in order to maintain your credentials. Some fire warden training might only need to be taken once, while other courses should be repeated annually. By keeping up-to-date with new fire safety practices, you will be able to protect lives and property no matter what industry you are employed in.
By: Evgeny Dubinchuk

Fire wardens help ensure that forest fires are quickly identified and managed.

By: mrkob

Learning how to use a fire extinguisher is part of fire warden training.

By: hartphotography

Having experience as a fire fighter can help you with fire warden training.