How do I Choose the Best Fire Pit Set?
Choosing a fire pit set is often based on personal preference, especially regarding the style and look of the set. Use of the set, however, should also be kept in mind when making a purchase. Buyers should also consider local laws, materials used in the pit construction, and their personal budgets. Fuel preference is one other aspect that can make a big difference to consumers, depending upon available resources.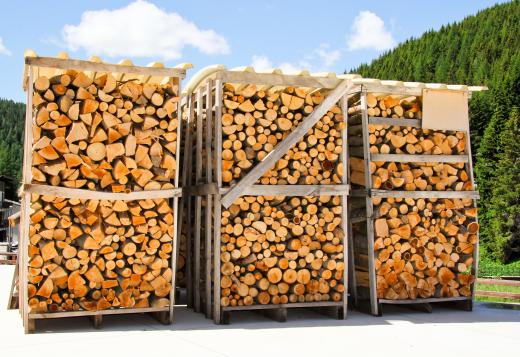 Many different types of fire pits are on the market. These typically consist of a pit and two to four chairs to be positioned around the pit. Fire pit accessories, such as covers or fireside tools, may be included. Consumers should decide how many chairs, and which accessories they need when purchasing a fire pit set.
Selecting a look that fits with one's tastes or decor is also important to many buyers. A small metal fire pit may be preferable for someone with small space and a tight budget. Stone pits tend to be more expensive; however, many buyers prefer them for the rustic look they provide. Many stone models also feature attractive designs, such as sun burst patterns.
A wood burning fire pit is often preferred by people with a steady access to kindling. A gas fire pit, however, may be a better choice for people without access to firewood, or for those who wish to ignite quick, immediate fires. Local laws may mandate that only certain fire pits be used, or even prohibit their use altogether in residential areas. Persons interested in buying a fire pit set should research any such restrictions in their area before making a purchase.
Use of the fire pit set can be very important during selection. If the pit is to be used simply for warmth or aesthetics, its model may simply be chosen based on the buyer's personal preference and budget. If it is being used for cooking for other burning, however, buyers should keep surface area and safety in mind. A narrow fire bowl or patio heater, for example, may not the best choice for cooking needs.
People building their own homes or porches may be interested in implementing a fire pit into their design. Inlaid fire pits are a popular addition to many decks and patios. Those who wish for a fire pit set can then simply purchase or construct seating to flank the pit. Some people even construct small fire pits with a simple barbecue pit grate and bricks; seating can then be arranged as needed.


By: Harris Shiffman

A fire pit.

By: erikazanier

Access to firewood is important for owners of a wood burning fire pit.

By: Rony Zmiri

Selecting a look that fits with one's tastes or decor is important to many fire pit set buyers.