How Do I Choose the Best Face Wash for Oily Skin?
You will know that you have oily skin if, after a couple of hours since you washed your face, it starts looking excessively shiny and is greasy to the touch. Discard of face cleansers that have silicones, colorants, and other synthetic materials that will only aggravate oil production. When shopping for a face wash for oily skin, it is important that select a robust cleanser that has a gel-like consistency. The cleanser should also be formulated with salicylic or glycolic acid to aid in the skin's ability to control sebum production.
Individuals who suffer from excessive oiliness will have overactive sebaceous glands on the forehead, nose, and chin area. The excessive oil found in these areas can attract dirt and grime, which can lead to the formation of unsightly acne and a slew of other skin ailments. An oily face will have a hard time with controlling cellular turnover as well, which can also create whiteheads and blackheads.
When shopping around for a face wash for oily skin, you will have to diligently look over the ingredients list. Try to avoid heavy synthetics, oils, and parabens. Avoid cleansers that are formulated with dimethicone or silicone. These are synthetic materials that only create a thick film on the skin, and can contribute to the oiliness of the face.
The consistence of the cleanser can also be used as an indicator as to whether or not it is suitable for oilier skin types. Skin cleansers that are creamy in consistency — while gentle on the face — will usually not be powerful enough to purge the skin of sebum build-up. This also applies to cleansers that are oil-based.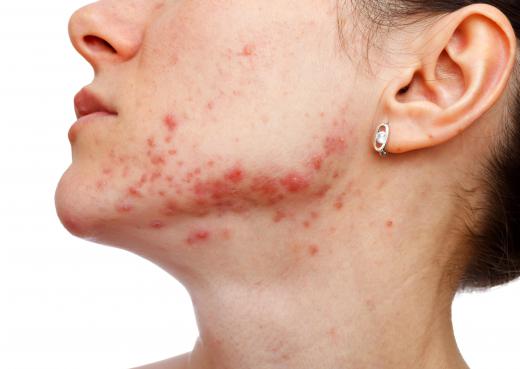 A face wash for oily skin will usually have a gel-like consistency to it. Face cleansers that are gel-based tend to be more robust in clearing the skin of excessive oil. These type of cleansers help to oxidize the oil in the skin's pores, actively absorbing excessive oil. They tend to be a bit drying for combination or dry skin types, but are robust enough to remove sebum oilier skin.
Select a face wash for oily skin that has salicylic or glycolic acid formulated in it. These are chemical exfoliators that increase cellular turnover on the surface of the skin. Salicylic acid can also normalize pH levels on the skin, subsequently calming sebaceous glands from producing too much oil. Glycolic acid, an acid derived from sugar-crops, helps to clear up the oily residue found deep within the skin's pores.
AS FEATURED ON:
AS FEATURED ON:






By: picsfive

It's important to use the right skin care products for oily skin, but without over-cleansing or drying.

By: Ocskay Bence

A face wash with glycolic or salicyclic acid can help treat acne.

By: WavebreakmediaMicro

Regular face washing with proper products helps keep skin smooth and healthy.

By: dianamower

Witch hazel is often included in skin care products for oily skin.