How do I Choose the Best Employment Website?
To choose the best employment website for you, consider the time you have to spend as well as the quality of the opportunities. The two main types of employment websites are recruitment and classified. If you're focused on a particular career area, you're probably better off choosing a recruitment website, but if you'd rather keep your options of industries open, then a classified employment website may be best.
There are classified employment websites that provide links to local newspapers' job sections, so this type of site can save you time and money by not having to buy several papers just to read the ads. Another kind of helpful area-oriented employment website is one in which jobs are listed per city or region. This way, you won't have to scan through job opportunities in locations that don't apply to your needs. If it is the case that you're willing to relocate, you can look at employment ads in the cities or regions you're considering.
Many employment websites that feature job listings also have articles about labor market trends, salaries and news about training opportunities. If these are of interest to you, choosing an employment website with both jobs and extras can work out well. Be wary of websites that are more interested in promoting their site than in providing timely ads though, or you will be looking through week-old or even later employment advertisements. By this time especially, the company that placed the ad may not even be looking at applications if they've already received hundreds.
For both in-person and telecommuting jobs, applying through the Internet is extremely popular, so it's important to apply on the same day an ad comes out, whenever possible. Keep in mind that many times an employment website has merely linked from the original job board, so already time has been lost. For this reason, it's better to visit the original website the jobs you're likely to be interested in are posted, or you'll be getting to them later than other applicants. Other than re-hashed ads, another thing to watch out for are scam job ads; never send any money to apply for a position and remember that an opportunity that sounds too good to be true is often a fake one.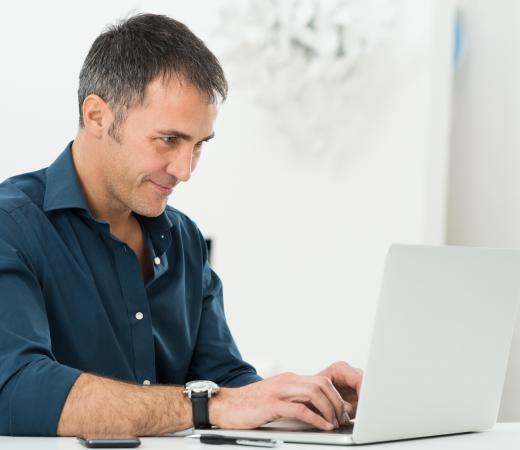 For this reason especially, recruitment company websites can be a good place to find work. The jobs posted there are likely to be real. The downside is that there aren't usually many telecommuting jobs posted on these sites. You may also be required to register with the website in order to browse for jobs. Most recruitment company websites either specialize in one career area, or have neatly organized categories for browsing, so either can be helpful, depending on your work needs.
AS FEATURED ON:
AS FEATURED ON:






By: jamdesign

Many employment websites that feature job listings also have articles about labor market trends, salaries and news about training opportunities.

By: ruigsantos

Recruitment managers often place online employment ads on relevant job boards.

By: Rido

When looking at a job listing, be sure to check whether it involves telecommuting options or if all work is done on site.