How do I Choose the Best Drywall Contractor?
The best drywall contractor provides the required services within the time frame specified, on budget, and a delivers a quality product. A drywall contractor is typically a small business that provides professional services related to the installation of drywall, in either a residential or commercial setting. Drywall is the material used to create walls and ceilings. Made of gypsum board and covered with paper, this material is widely used because it is sturdy, easy to work with, and can be easily secured to a structure or frame using a variety of methods. Once the drywall is installed, the surface can be covered with either paint or wallpaper.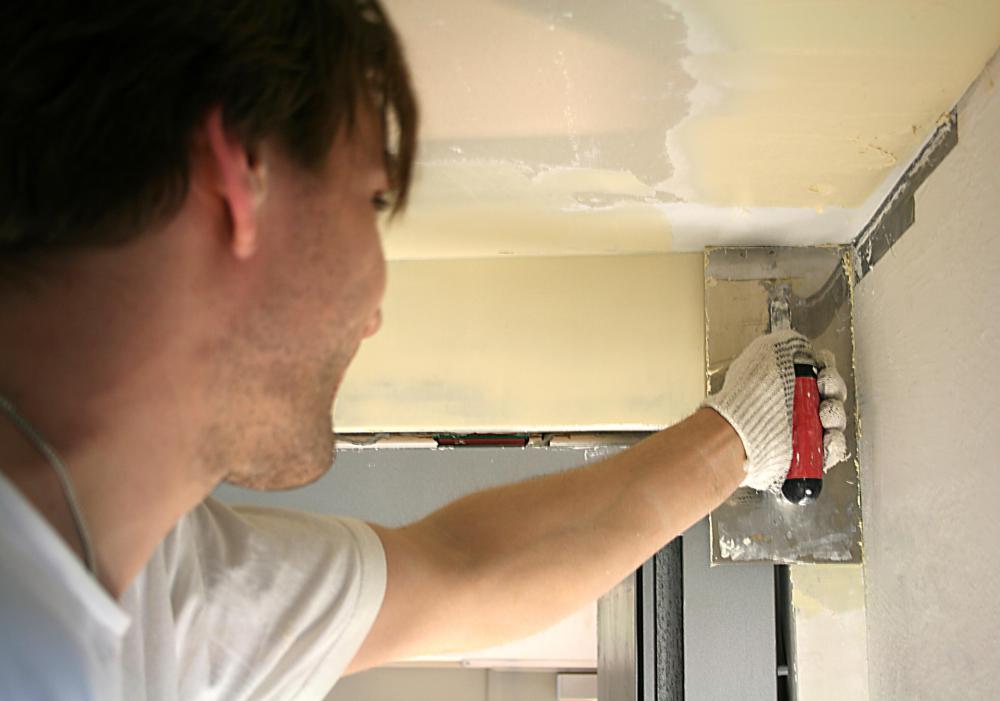 The first thing to consider when looking for a drywall contractor is the level of skill and experience. Ask for a list of references and physically go to these sites to view examples of the contractor's workmanship. Talk to the clients about the experience, time line, and budget to determine if this contractor can meet your needs.
Look at your space to determine how many sheets of drywall are required and the type of drywall. If the space includes a bathroom, then waterproof drywall is important. Drywall comes in standard dimensions. Measure the space and then go to the local hardware store to get a ballpark value for materials. Remember that contractors do not pay retail prices, but include joint tape, compound, equipment, sandpaper and other materials in your estimate.
When trying to choose the best drywall contractor, contact a minimum of three suppliers and request quotations for the project. The contractor will need to come on site to view the space, discuss your requirements, time frame, and any additional items. When requesting a quotation, ask for it in writing, and ensure that it includes a breakdown of labor and materials. Included in the quote should be the estimate project time line and the scope of the work. Make sure that you give all three contractors exactly the same information, so the quotes are truly comparable.
Make sure that the contractor is licensed and has workers compensation as well as professional insurance. This coverage protects the property owner from lawsuits in the event of a workplace accident. Professional insurance also provides coverage in the event that the work completed by the contractor causes damage to the structure.
References from prior customers are a great way to evaluate the skill and professionalism of a drywall contractor. Another way is to find out what job they are working on now, and ask to visit the job site to see their work. Refusals to provides references or show examples of professional work are serious and need to be addressed.