How do I Choose the Best Dry Skin Cream?
Dry skin is a common problem, especially during the colder months or if you live in a dry climate. Choosing the best dry skin cream generally depends on the severity of your dry skin and where it occurs. There are dry skin creams formulated specifically for the body and others that are designed to work best for facial dry skin. Creams that are not made with petroleum-based oils are usually best for facial dry skin, as these ingredients can cause clogged pores. Some good ingredients to look for in a dry skin cream include Shea butter, vitamin E and grape seed oil. Thicker lotions and those with heavier oils in the ingredient list are typically best used as body lotions. Also, if you have allergies or sensitive skin, you may do best to choose a fragrance-free dry skin cream.
Thicker ointments, which are gooey in texture and often come in a tube, may work best as a body cream. The consistency of the ointment helps to seal moisture in the skin and adds a layer of protection. Thicker cremes tend to offer longer protection and dry skin relief than watery lotions as well. Some of these types of heavier creams have such ingredients as honey, coconut oil, beeswax, almond oil and jojoba.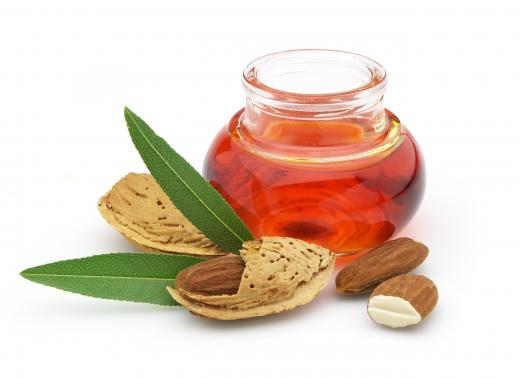 Shea butter dry skin cream can typically be used on the face or the body. Shea butter typically has a mild scent, and it contains important vitamins, such as vitamins A and E, to help skin remain clear. It tends to soak into skin well without leaving a greasy film — it also won't usually cause clogged pores, so it's safe to use even on combination skin. Shea butter also is effective on dry, rough patches of skin that can appear on elbows and knees.
If you have dry facial skin, moisturizers made for the body may be too rich to use on the face, as facial skin tends to produces its own natural oils. Natural ingredients, such as olive oil, grape seed oil, aloe or vitamin E can help soothe the skin on your face as well as offering nutrients to keep your skin healthy. To avoid clogged pores, it may be best to choose a dry skin creme that specifies "non-comedogenic" on the label; this indicates it will not clog pores.
Choosing the best dry skin cream also doesn't necessarily involve spending a lot of money on high-priced brands. There are a variety of facial moisturizers and body lotions that offer reasonably priced solutions. Keep in mind that less expensive brands found in discount stores are often equal to or better than the high-end, department store products. Spending more doesn't guarantee a product will work better. Choosing the best cream usually involves narrowing your choices down to a few good candidates, then trying them out to see what works best on your particular skin.
AS FEATURED ON:
AS FEATURED ON:






By: Dionisvera

Almond oil is a soothing ingredient for dry skin.

By: Stéphane Bidouze

Determining how severe dry skin is is important in choosing the best dry skin cream.

By: volff

Thicker creams and lotions are ideal in treating dry skin.

By: margo555

Olive oil has been used as a natural moisturizer to soothe dry skin for centuries.

By: Lovrencg

A fragrance-free dry skin cream may help relieve irritation associated with dry skin.

By: maska82

Choosing the best dry skin lotion doesn't necessarily mean spending a lot of money on high-priced brands.