How do I Choose the Best Divorce Law Firm? (with pictures)
Even in the simplest of circumstances, divorce is rarely quick or easy. Particularly when high-stakes issues like child custody and spousal support are at play, it is important to know your rights and understand the contours of the governing law, which often involves retaining the services of a lawyer. Choosing the best divorce law firm is usually a matter of finding a firm that has handled cases like yours before, has a history of success and client satisfaction, and has lawyers with whom you feel comfortable working. The divorce law firm selection process usually begins with gathering names, making appointments, and scheduling informational interviews to "try on" a number of firms until the right fit is found.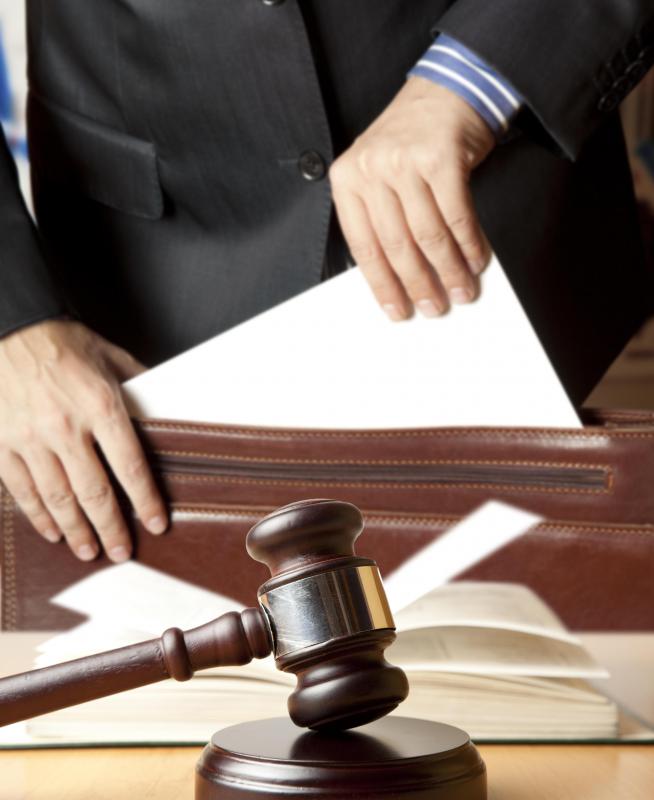 Divorce is a nuanced area of law, and it is important that the firm you ultimately choose either specializes in divorce and family law matters, or has a very strong family law practice area. It can be tempting to hire the family's lawyer, or a law firm that was helpful in past tax preparations, for instance, to handle a divorce. While personal rapport is an essential element of choosing the right divorce law firm, it is not the only piece. A lawyer needs substantial divorce law experience in order to adequately fight for your rights in court. Asking a known lawyer for divorce recommendations can be a good place to start.
Word of mouth is often one of the best ways to find good legal representation. If you have friends or family who have recently gone through a divorce, ask them for their recommendations. You can also usually contact your local bar association or lawyer licensing agency for a list of law firms that predominantly handle divorce cases. In most cases, the only restriction on your choice is that you and your spouse cannot be represented by lawyers from the same firm. Dual representation is generally perceived to be a conflict of interest.
Understanding the scope of your divorce is also an important piece of choosing a divorce law firm. Different experience is required for a wife who is filing for divorce from an abusive husband, a husband and wife who decide mutually to end the marriage, or a husband seeking to divorce an unfaithful wife, for example. Although most divorce lawyers can handle a range of divorce scenarios, finding a lawyer who has handled cases that mirror yours can give you more confidence, and can also sometimes lead to better results.
When you have narrowed your list of potential firms to just a few, call them and ask to set up an informational interview. Most law firms do not charge for initial meetings, but this is a good thing to ask. At the meeting, bring any information that you have, such as court summons or complaints, and be sure to outline what exactly it is you are looking to achieve. If you are seeking full custody of the children, for instance, be sure to say so. Asking about divorce mediation or settlement options is also important, if these are litigation alternatives you are considering.
You will also want to ascertain how the firm will handle your case, and how you will be billed. Some firms split the work of one case between several lawyers, which means that the divorce attorney you meet with initially may not be the one doing the majority of the work on your case. With respect to billing, some firms assess an hourly rate, while others work for a flat fee or on a contingency basis.
There is no set formula for finding the absolute best divorce law firm. A firm that is perfect for a friend or colleague might not be perfect for you. The best bet is to enter the process having done some research, understanding the facts of your case, and with an eye out for a lawyer you feel comfortable working with for duration of the time you may spend in divorce litigation.
When seeking out a divorce attorney, do your own research.

Some law firms specialize in divorce or family law.

Law firms that offer mediation services may be able to help reach an agreement out of court.

Divorce law can be complex, and a divorce attorney may be retained by either spouse, particularly in contentious divorce proceedings.