How Do I Choose the Best Deck Furniture?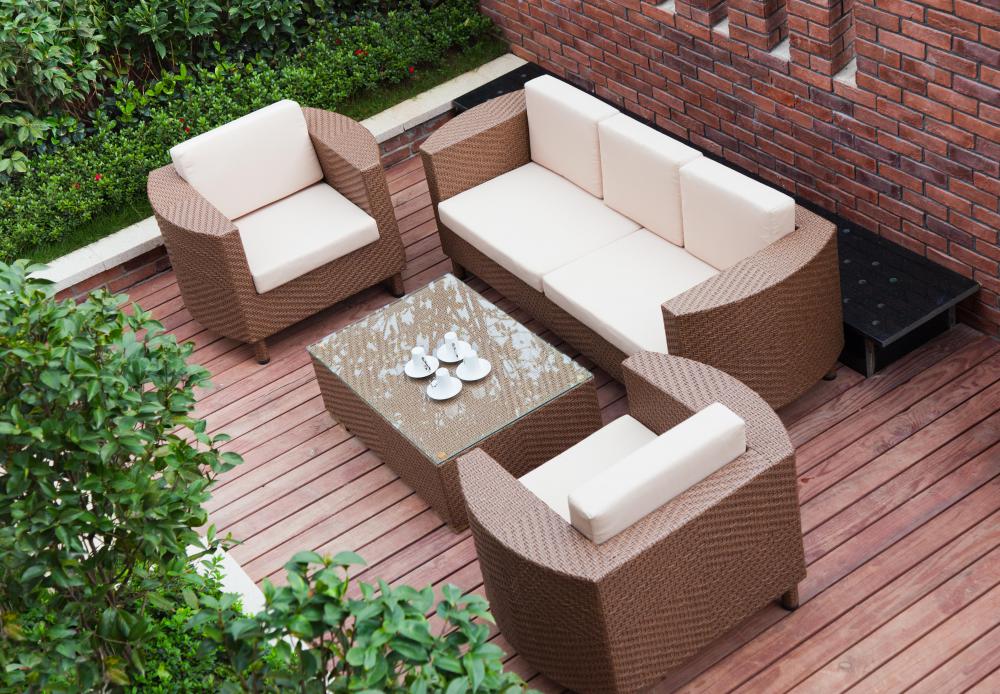 To choose the best deck furniture for your home, consider your budget, space and needs. For example, if you want furniture for a pool deck, loungers may be best, while folding chairs are likely to be a better choice for an apartment-sized balcony. The more you can spend on deck furniture, the better quality you're likely to get, but it's still a good idea to shop around and compare prices.
Plastic outdoor furniture can be the best choice for tight budgets. It has the advantage of usually being lightweight and easy to clean. It's also excellent for pool deck furniture since it is water-friendly. Spraying plastic outdoor furniture with a hose or wiping it with a damp cloth is typically the only maintenance it needs. Some of the downsides of plastic chairs and tables for outside spaces is that it can look cheap and it tends to show scuff marks and scratches.
If you are interested in choosing plastic garden or patio furniture, looking for both style and practicality can work best. For instance, plastic dining and side table designs with clear acrylic tops mimic that of glass-topped indoor furniture which can add a strong style statement. Also these clear tops are a practical choice, as they often don't scuff or scratch as easily as solid plastic ones. Choosing plastic chairs that stack easily can be a good space-saving option.
If high-quality deck furniture is more important than a low cost, teak wood can be the best choice. Teak outdoor chairs and tables not only look attractive, but also stand up in all types of weather. If you don't want to have to store your deck chairs and tables during rainy or snowy seasons, teak pieces are ideal. After time though, the brown, honey or cinnamon tones in teak may turn gray or silver from sun exposure. The look can be attractive and left as is or you may need to refinish the wood.
Wrought iron is another high-quality material used for outdoor furniture. Its dark, openwork design can be especially attractive against a lighter deck and building, as it can really stand out. Wrought iron deck furniture tends to be pricey, but if you buy it in the off-season such as at the end of the summer, you may be able to get a sizable discount.
As a general guideline as far as the size of the tables and chairs for outdoor use, use smaller ones for tinier decks. If your deck or patio is very large, you may want to create several furniture groupings such as one area for dining and one for lounging. If you entertain often, choosing some folding chairs to have on hand when needed as well as deck furniture for regular use may be a good idea.
By: rodho

When it comes to the best deck furniture, budget as well as weather conditions and overall looks should be considered.