How Do I Choose the Best Commercial Tanning Bed?
When choosing a commercial tanning bed, it is best to consider four important factors, which are the type of tanning bed, the price, the amount of energy used, and the size. There are many commercial tanning beds on the market, and it can be crucial to choose the one that will provide many years of usage. The effectiveness of the tanning bed is also important when considering that most repeat business is based on the satisfaction of the customer's first experience. This is an important factor to consider as well when choosing a commercial tanning bed.
A commercial tanning bed that suits the specific business it will be operating in is the best choice. There are many types of tanning beds that offer convenience as well as a lower tanning time when compared to traditional tanning beds. Stand-up beds can offer overall tanning coverage, and they typically take less time to tan the skin than traditional models people lay in. Many pregnant women like to use spray tanning beds because the adverse effects are next to nothing. These tanning beds are also stand-up units that offer a consistent spray tan and do not expose the body to harmful or damaging UVA or UVB radiation.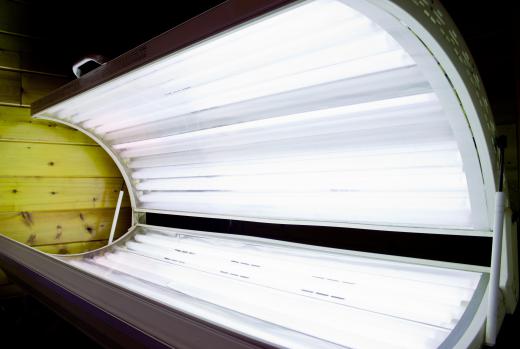 Price is an essential consideration when searching for the right commercial tanning bed. There are beds that range from very high to extremely economical and everything in between. A good option for those who are looking to save money and get the most value is to purchase a used commercial tanning bed. This can help a new business that may be just starting out and has not begun to receive any profit from sales yet. Opting for a used bed gives the flexibility of choosing a higher-end model for a lesser price, but it is always essential to have a mechanic look it over before the sale is final.
There are many efficient tanning beds on the market that offer a great way to get a tan without the high amount of energy that it typically takes with a traditional model. These tanning beds offer sleek designs and comfortable options of either a lay-down or stand-up style. When purchasing a commercial tanning bed, one should consider the space available to house the bed. Tanning can be a great money-making business, but the size and space in the salon are vital when choosing the right tanning bed.
AS FEATURED ON:
AS FEATURED ON:






By: markcarper

A tanning bed.

By: Rido

Opting for a used tanning bed can be a cheaper way to purchase a high-end, high-quality tanning bed.