How do I Choose the Best Coffee Stain Remover?
When choosing a coffee stain remover, you can find solutions both in commercial products and inside your kitchen cabinet. Choosing the best coffee stain remover begins with finding out what kind of material your stained clothing or furniture was made from and whether you can handle it yourself or will need to go to a specialist. In all cases, it is recommended that the stain be removed as quickly as possible before it permanently stains the fabric.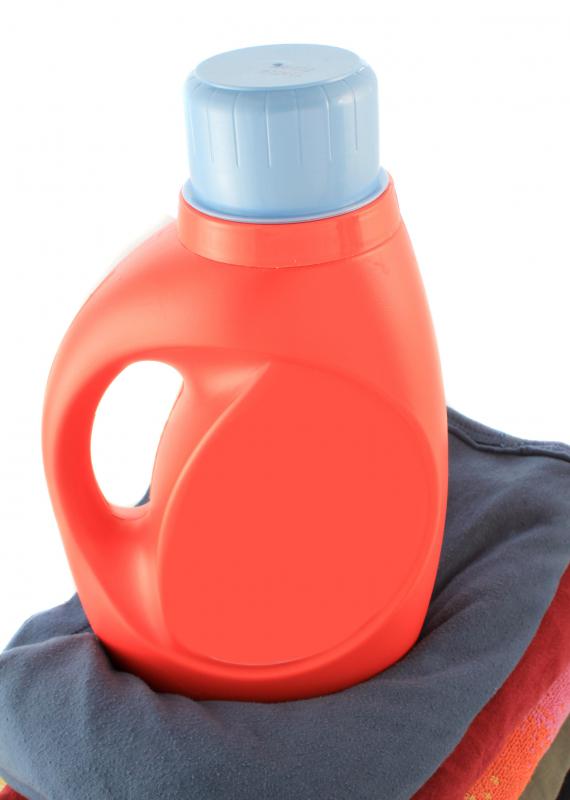 Coffee is frequently spilled on both furniture and carpets, but the recipe for removing stains from both areas is the same. First, take a clean cloth and blot up as much of the coffee as possible. Apply one spoonful of mild detergent mixed with a cup of warm water, followed by a third of a cup of vinegar and two thirds of a cup of water. Blot up the excess, and allow to dry. The exception to this rule is if your furniture is an antique—while store-bought furniture and carpeting can be cleaned at home, hand-embroidered upholstery or oriental rugs will need to be treated by a specialist.
When dealing with stained clothing, it's best to begin by reading the garment care tag. If the garment says "dry clean only," the best method for stain removal is to take it to a dry cleaner immediately. Blotting the stain with a clean paper towel or washcloth dipped in cool water will keep the stain moist until it can be removed. With leather garments, swish together a solution of mild detergent and water, and apply only the foam to the stain.
Other garments, such as cotton or linen, are home-washable. Vinegar, baking soda, and egg whites are a few of the most common household products that can double as a coffee stain remover. They can be applied to a stain after it has been dabbed with a wet cloth. After waiting a few moments, the product can be dabbed up again using another damp cloth.
Commercial stain removers can be found in the detergent aisle of a grocery store. The label will indicate whether they can be specifically used to remove coffee. Many common detergents can remove a fresh stain in the laundry. Other companies have made specific pens that will remove a stain without the garment having to first be washed.
Despite the many types of commercial products and stain removal advice available, no coffee stain remover is foolproof. How easily you can reverse the damage depends on how quickly you can deal with the stain. Often, the best remedy is to simply avoid drinking coffee around items that cannot easily be cleaned.