How do I Choose the Best Cardio Strength Training Exercises?
To choose the best cardio strength training exercises, you will want to consider the areas of the body that you want to focus on for strength training, as well as the type of cardio you want to do. Usually, cardio strength training requires some sacrifices in both areas; it is difficult to get the same amount of cardio benefits that you get from sustained aerobic activity, and it is equally difficult to build a great deal of muscle doing this type of strength training. You may want to do some research online or meet with a trainer to get ideas for the best exercises to choose, and consider any physical limitations or injuries you have, to avoid causing any damage.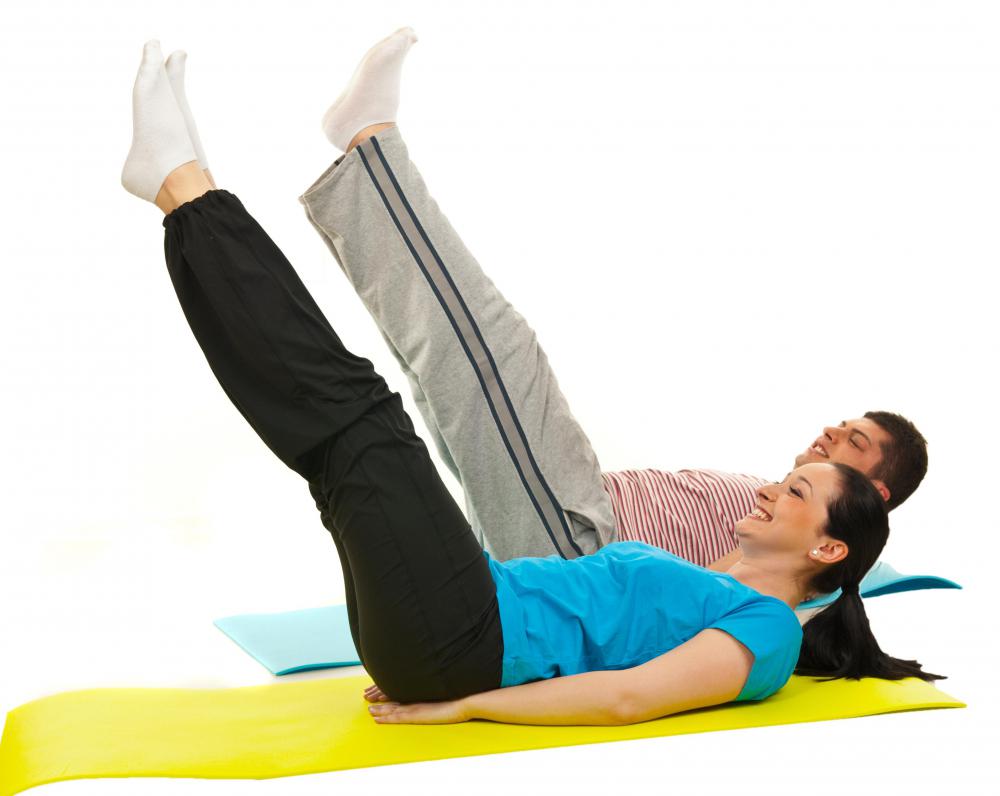 There are some specific concerns for cardio strength training exercises. First, even though the speed at which you will be doing the strength training exercises is increased, it is extremely important to maintain proper form, and not just rely on momentum. If you can't maintain proper form when doing strength training exercises in an aerobic way, then you shouldn't do them. Wait until you are in better shape, at which point you will be able to perform the exercises correctly and will be less likely to pull a muscle.
The best cardio strength training exercises are often the simplest. You may choose to create a routine that combines exercises such as squats, lunges, jumping jacks, push-ups, leg lifts, and crunches, among others. These exercises may then be done at a brisk pace without stopping to rest in between, which forces the muscles to work harder and offers aerobic benefits. When doing squats and lunges, some people will also hold hand weights, and press the hands up towards the ceiling for each movement, to strengthen the arms as well.
Taking classes at a gym may be a good way to learn new cardio strength training exercises as well. Power yoga, for example, is somewhere between traditional yoga and a more aerobic version, and can be a great way to get exercise and build strength. Group kettlebell classes are extremely popular, and these also combine aerobic and strength benefits. The best way to do any type of cardio strength training, whether you are doing it independently or at a gym, is to plan your routine ahead of time, move rapidly between exercises without a long rest period, try to vary the areas of the body that are being targeted with the exercises, and maintain proper form when using weights. It can be a simple, easy, and fast way to lose weight and get in shape.
By: Tyler Olson

Jumping jacks are a simple form of cardio strength training.

By: Gabriel Blaj

The best cardio strength training exercises are often the simplest, such as leg lifts.

By: Dirima

Crunches and lunges can be combined to create a cardio strength training exercise.