How do I Choose the Best Breastfeeding Bra? (with pictures)
There are many factors to take into consideration when choosing the best breastfeeding bra for you. It is important to find a bra that fits correctly and provides enough support. Look for a design that makes breastfeeding comfortable and convenient. You will likely have specific preferences regarding style, fabric, and how the bra looks under your clothes as well.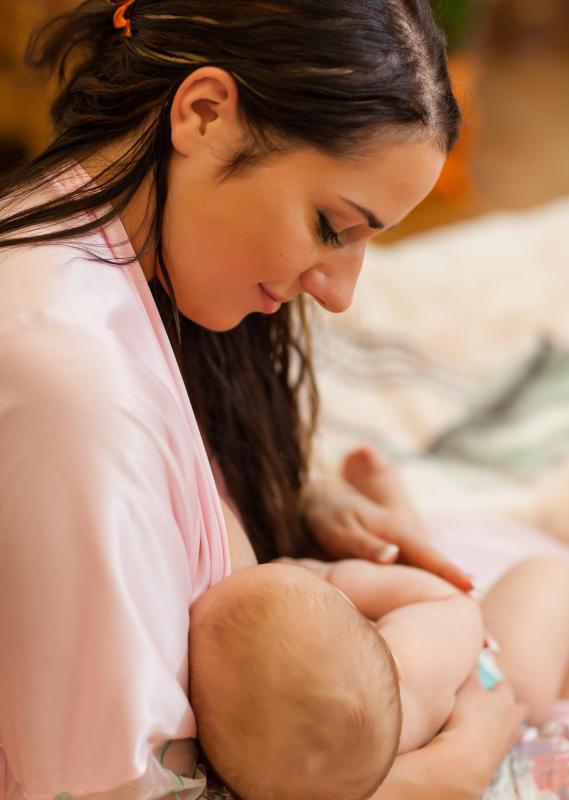 Perhaps the most critical part of choosing a breastfeeding bra is finding one that fits you properly. As your breast size and body shape will change with pregnancy and breastfeeding, your normal bra size will undoubtedly not be the same as your bra size during this time. Also, it is important to know that breast size can change dramatically over a space of a few hours between your child's feedings. You may wish to get a professional fitting to determine the right bra size while you are nursing, and also get one with some flexibility in the fabric to accommodate shifts in breast size.
Support is another important consideration when picking a breastfeeding bra. Your breasts will likely be larger and heavier than normal, and a good bra will be strong enough to compensate for this. While you might normally choose underwire bras for this purpose, they can potentially restrict milk flow through the ducts and cause problems; because of this, you may want to look for a wireless nursing bra that is still designed to be supportive.
The best breastfeeding bra for you will have a design that allows you to nurse comfortably and easily. Many bras are designed with flaps that can be released at the top of the bra and pulled down to allow your child access to the nipple. Others are simply made with stretchy material that can be simply pulled down under the breast. Depending on your preference, one may be more suitable for you than the other. You may also want to look for bras designed to hold absorbent pads that can prevent milk from leaking through.
In addition to finding one that is functional, you may have aesthetic preferences that come into play when choosing your ideal breastfeeding bra. Factors like fabric, style, and color may be important to you. Depending on what type of clothing you have to wear, it may be necessary to find bras that do not display seams underneath them as well.
By taking simple measurements using a tailor's measuring tape, you can figure out what size breastfeeding bra to purchase.

Breastfeeding bras should provide plenty of support.