How do I Choose the Best Biochemistry Institute?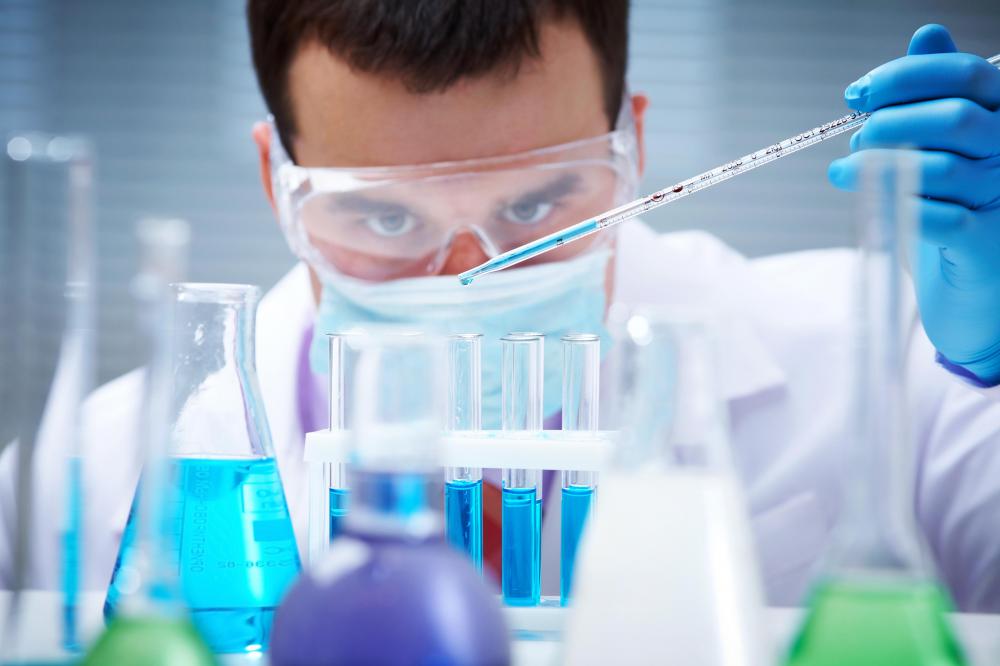 There are four things to consider when looking for the best biochemistry institute: appropriate focus, small class size, research opportunities, and support staff. A biochemistry institute can be attached to a large research university or function as an independent institute. The purpose of a biochemistry institute is to support advanced research and further the knowledge and understanding of biochemistry, independent of commercial interests. These institutes receive their funding from a combination of donations, government grants, and international funding programs.
Biochemistry is the study of chemicals within a biological system or organist. For example, the discovery that depression is caused by a drop in the levels of specific chemicals in the brain is biochemistry. There are two types of biochemistry institutes available: research and teaching. The research programs are typically funded by government and outside granting agencies, providing opportunities to conduct research into specific functions or topics. These research projects are typically multi-year and involve a wide range of specialists, ranging from chemical engineers to biologists.
Teaching departments focus on the course materials and standards of instruction provided at the graduate level. Sharing of knowledge, development of research skills and providing support for other institutes is the primary focus of these types of departments. Working with colleges, universities, and accrediting agencies, the biochemistry institute can increase the quality of training and level of skill of biochemistry graduates. This in turn will advance research and developments in this field.
A biochemistry institute teaches a combination of theory and practical skills. The lower the number of students in the class, the more individual attention the instructor can provide to each student. Take the time to ask questions, and gain as much knowledge as possible. The best biochemistry institute includes access to laboratory equipment and the ability to conduct experiments.
Research opportunities are critical to the best biochemistry institute. When comparing departments, look at the number of grants awarded in the last two years, the total number of applications, and the number of consecutive research projects underway. Look at the breadth of topics in the published research, areas of specialization, and the quality of the work produced.
Support staff is critical when looking for the best biochemistry institute. Department administrators, research accountants, development staff, and other support personal are critical to the success of any scientific or academic institution. The amount of staff available is an indication of the size, success, and support of the department within the institution.
All research and academic institutions require support staff who are dedicated to identifying new research funding opportunities. Grants and research funding is available from a wide range of national, international, commercial, charitable, government funded agencies and associations. The application requirement, time lines, areas of focus, and amount of funding varies widely.
It's important to consider research opportunities when selecting a biochemistry institute.