How do I Choose the Best Bike Accident Law Firm?
It may be difficult to find a law firm that handles only accidents that involve bikes. Instead, you will typically have to search for a law firm that handles personal injuries, including bicycle accidents. To find the best firm to handle your bicycle accident case, you may look for law firms that have experience handling bicycle accidents, have good reputations, and charge legal fees you can afford. You may also meet with a lawyer at each firm you are considering before you choose. Such a meeting may help you determine whether or not you feel comfortable with the office staff as well as the lawyer who will handle your case.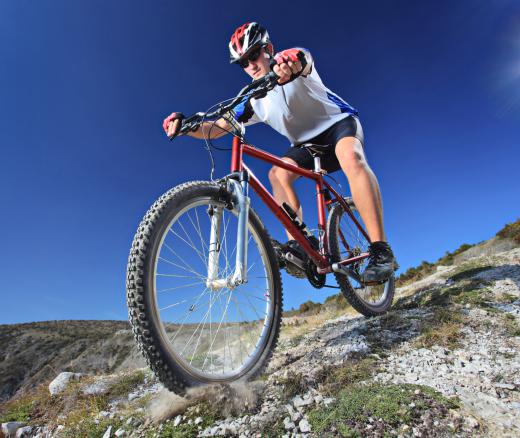 To choose the best bike accident law firm, you may start by searching for area law firms that specialize in personal injury cases, especially those that occur as a result of vehicle accidents. You may find nearby law firms that fit this criteria by searching online or in a local telephone directory. In order to make the best choice, you will typically have to compare several law firms. You may begin this process by listing firms on a piece of paper and leaving space for notes as you learn more about each firm.
Once you have made an initial list of law firms, you may then begin research to learn about each firm's experience. In general, firms that have been in existence for longer are likely to have more experience with personal injury cases. You will likely want to know, however, how much experience each law firm has with handling bike accident cases in particular. You may find this information by researching each firm via the Internet or by calling the law firm to ask questions.
Reputation may also make a difference when you are trying to choose the best bike accident law firm. As such, you may look for reviews of law firms online as you narrow your list of choices. You may also ask lawyers who focus on other types of law if they can either give you information about one of the firms on your list or recommend another bike accident law firm. Additionally, peer review websites may provide information about the lawyers who work for the firms on your list.
Legal fees may also play a role in your decision making when you are trying to choose the best bike accident law firm. You'll likely want to make sure the fees a firm charges will be affordable for you. Some law firms only charge fees when they win your case, however. If you will find it hard to pay a retainer or hourly legal fees, this may be a better option for you.
After you've narrowed down your list to two or three law firms based on experience, reputation, and legal fees, you may use a visit to each of the remaining law firms to make a final selection. At such a visit, you may learn which law firm seems most confident about its ability to win your case. Additionally, you may determine how comfortable you feel with the law firm's staff and its attorneys.


By: ia_64

A bike wheel.

By: Ljupco Smokovski

A man mountain biking.

By: Piotr Marcinski

It may be difficult to find a law firm that specializes in bike accidents.