How do I Choose the Best Bicep Exercises?
Developing more muscular biceps is the goal of many weight lifters. It can be difficult, however, to know which bicep exercises are right for you and which ones will produce the most muscle mass. Most of the best bicep exercises involve curls and pulling motions, typically through the use of dumbbells. Some proven exercises that can help build biceps include the standard dumbbell curl, hammer curl and chin ups.
The standard dumbbell curl involves holding dumbbells at your side with an underhand grip. First, simply hold the dumbbell in front while keeping your elbows at your sides. Next, curl the weight up close to your chest. If you are using proper form, then the dumbbell should be somewhere in the middle of your chest. Make sure that you use slow, controlled movements and do not swing the weights.
Another bicep exercise that targets the biceps is called a hammer curl. This targets a different muscle group where the biceps end and the forearms begin. To perform hammer curls, start with your palms facing your thighs. Next, slowly lift the dumbbell while keeping your wrist straight. Raise the dumbbells until you feel the muscle contract and hold for a second. Then, slowly lower the dumbbells and repeat.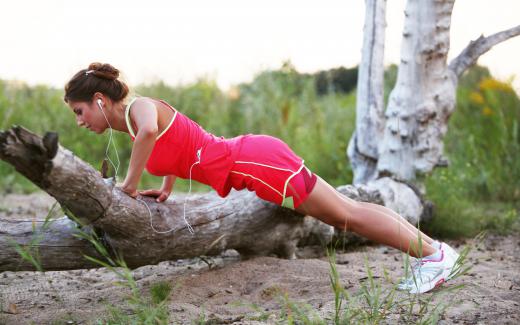 There are many alternative bicep exercises that do not involve dumbbells, such as chin ups. Many people underestimate the power of this exercise when it comes to a bicep workout. It can be a very good exercise when performed correctly, and all one needs is an overhead bar.
To best work the biceps, perform the chin up by grasping the bar with your palms facing toward you about shoulder width apart. Then slowly lift your body until your chin passes the bar. For an extra boost, slowly lower your body back down, keeping the biceps engaged.
When choosing the best bicep exercises, decide on the type of equipment needed and your fitness level. A good set of dumbbells are relatively inexpensive compared to other exercise equipment. Your fitness level can be determined as beginner, intermediate, or advanced for these muscle group workouts.
A beginner should choose only one or two exercises to perform when beginning a workout routine and aim to complete one set of 8 to 10 repetitions of the dumbbell exercises. Intermediate weight lifters should be able to complete slightly more exercises with better consistency. Advanced enthusiast should complete a minimum of two sets of each exercise with at least eight reps per session.
AS FEATURED ON:
AS FEATURED ON:






By: mikiradic

An anatomical illustration showing many muscles in the upper body, including the bicep.

By: Sergejs Rahunoks

Doing push-ups can help strengthen the biceps.

By: Sergey Lavrentev

Building strength throughout the bicep requires utilizing this muscle in a variety of exercises.

By: Mat Hayward

Dumbbell curls, seated or standing, are an effective way to build stronger biceps.

By: tankist276

When performing bicep curls with dumbbells, use slow and controlled movements.

By: pressmaster

Curls help strengthen the biceps and other muscles of the arms.