How do I Choose the Best Barbecue Grill?
When buying a barbecue grill, you face a number of choices. Apart from the classic gas or charcoal decision, you will need to decide things such as how many people you want to feed at a time, the type of cooking you want to do and how much you want to spend. Finding the right barbecue grill for you will come down to your own personal tastes and needs.
Your first big decision will be your fuel source, either charcoal or gas. Although it takes time and practice to get the coals hot, many barbecue enthusiasts love charcoal for the "purist" appeal and for the authentic, smoky flavor that it gives food. Charcoal barbecue grills are also lightweight and easy to store and transport, allowing you to easily barbecue away from home. They are messy, however, and they require a degree of skill to use properly. In inexperienced hands, a charcoal barbecue grill can produce food that is burnt outside and raw inside.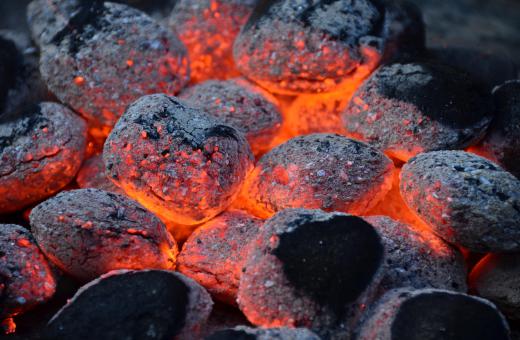 On the other hand, gas is quick and easy, and it is much cleaner than working with charcoal. Charcoal cooking requires patience, but gas heats up on demand and requires less experience. The gas burners give the user precise control of the heat, and cooking with gas is the easier option. Gas grills, however, don't provide the smoky flavor that charcoal does, and they're a lot heavier, meaning that they cannot be easily loaded in the car. Compared with a charcoal grill, a gas barbecue grill is much more expensive.
After you have decided which type of grill you want, you need to figure out how much barbecue you need. For an alternative to cooking indoors, a small charcoal hibachi might be sufficient, but you will need a larger barbecue grill for backyard parties and family gatherings. You probably will want at least 400 square inches (about 2,600 square cm) of cooking surface for general-purpose cooking. If you plan on entertaining others regularly, you will need a bigger grill, but price rises steeply with size, so be realistic.
Remember that the barbecue grill you select will most likely come to you in pieces. Some of these are easy to assemble, but some of the more elaborate barbecues might be more complicated, requiring skills and tools to put them together. Depending on your level of confidence, you might want to ask about purchasing the assembled floor model or getting assistance with assembly.
Price probably will be the primary factor in selecting your barbecue grill. Keep an eye out for bargains, but don't sacrifice quality. Choose a durable grill from a reputable manufacturer that provides a good warranty. This might drive up the price some, but it will cost more to replace an inferior discount grill when it falls apart, warps, rusts through or just stops working.
AS FEATURED ON:
AS FEATURED ON:






By: Daniel Bujack

Hot charcoal briquettes in a barbecue grill.

By: Elenathewise

A grill should be large enough to handle multiple servings.

By: Pietro D'Antonio

Since portable barbecues have different heat ranges and sizes, consumers should base their purchase on what they are going to grill.

By: Monkey Business

A free-standing electric barbecue grill can be useful for outdoor parties.