How Do I Choose the Best Automatic Rice Cooker?
Cooking perfect rice was once a type of art form, requiring the perfect amount of water and rice cooked for a precise period of time. Rice is ruined when it is either cooked for too long or undercooked. The automatic rice cooker solves the difficulties of cooking rice. Some rice cookers even steam vegetables, cook oatmeal and other grains, and keep rice warm for hours. When choosing the best automatic rice cooker, consider your needs to get a cooker that is the proper size, purchase a cooker from a reputable company, and select a cooker with measuring lines and a glass lid for the easiest operation.
The automatic, electric rice cooker is a simple little appliance. For many basic models, you simply pour in a certain amount of rice, pour in a certain amount of water, and turn it on. The cooker automatically turns off when it senses the rice is done. Some cookers have a "warm" setting that keeps the rice warm for several hours after it has been cooked. There is little variety in rice cookers beyond this basic operation, but if your budget allows for a fancier model, manufacturers do offer them.
Consider the amount of rice you will be cooking regularly. Some cookers are tiny and able to cook a maximum of five cups, while others can cook twice that amount. Other expensive types of rice cookers feature a steaming tray for cooking vegetables, a glass lid so you can monitor the cooking, a non-stick pan for easy cleanup, and sophisticated induction heating for the most perfect rice dish. When weighing all your options, resist the urge to buy a cooker with all the extra rice cooker parts if you will not be needing them. Select a model based solely on your cooking needs and size.
For easy, simple cooking, choose an automatic rice cooker with measuring lines in the cooking pot and an included measuring cup. The measuring lines greatly simplify the task, eliminating the need to meticulously measure the cooker contents with your own measuring cups. Metal lids accompany most basic cookers, but a glass lid allows you to see the contents without disrupting the sensitive cooking process. Avoid a model that does not offer a vented lid unless the cooker is a pressure cooker.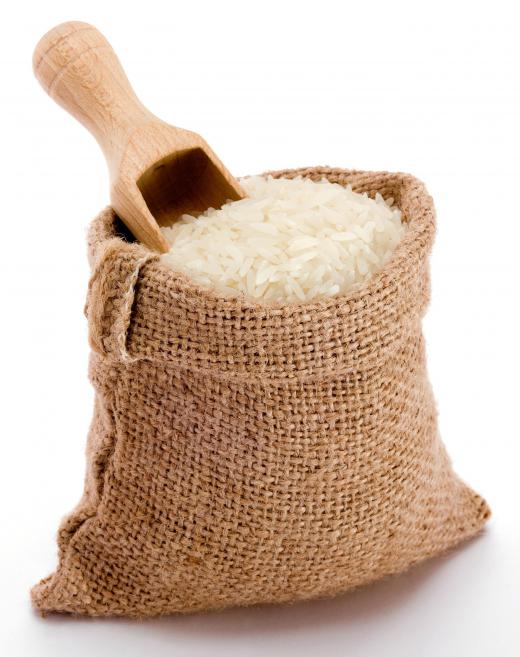 All automatic rice cookers are electric, but some sport more functions than others. The most basic cooker has no on and off switch; you merely plug in or unplug the cooker to operate it. Other cookers feature multiple menu selections, such as reheating, a "quick cook" option, an option for cooking porridge, and rice texture choices. Again, select an automatic rice cooker that will meet your needs rather than spending much money for features you will never use.
Finally, select a cooker from a reputable company with a background of high-quality products and customer satisfaction. Most manufacturers offer limited warranties on their products, but such a guarantee may not help if the manufacturer has poor customer service or maintains offices in a foreign country. A reputable company also offers greater access to replacement rice cooker parts should you need them.
AS FEATURED ON:
AS FEATURED ON:






Rice plants.

A bowl of rice made in a rice cooker.

By: airborne77

Uncooked rice.

By: blue eye

An automatic rice cooker.