How Do I Choose the Best Ambulatory Care Center?
When choosing an ambulatory care center, you should ask for referrals from medical professionals as well as other people you know. You should also consider the nature of the ambulatory care center and the services that it offers. It is a good idea to investigate the credentials of the health care professionals who work in the facility and to find out if the ambulatory care center has been accredited or approved by an appropriate private or government oversight agency. Finally, if cost is a factor, find out about its rates and whether it accepts your insurance plan.
An ambulatory care center is a business that provides medical treatment on an outpatient care basis. This means that patients will undergo examinations, testing, or other medical procedures at the center but will not spend the night. Instead, patients are released on the same day of their treatment. There are several different types of regulatory care centers, which include urgent care clinics that provide examinations and other primary care services on a walk-in basis as well as surgical centers that specialize in outpatient procedures. In some cases, an ambulatory care center may also have an on-site lab for running medical tests or diagnostic equipment such as x-ray machines.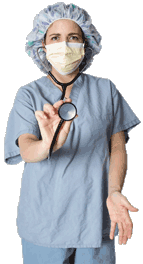 If your personal physician recommends a health care procedure that can be performed on an outpatient basis, ask him or her for a recommendation to a good ambulatory care center. Other sources for referrals can come from friends, family, and co-workers. It's always wise to determine whether a facility offers the services that you need. For example, if you are interested in undergoing gastric banding, you will want to find a center that specializes in this procedure.
Find out something about the credentials of a center's staff. In some cases, an ambulatory care center may be staffed primarily by nurse practitioners and physician assistants instead of physicians. If your condition is severe or complex, you may wish to find a clinic that will allow you to see a physician who may be better qualified to diagnose and treat you. If you plan to undergo a surgical procedure, check to find out whether the physician providing the service is board certified in a pertinent specialty. In some jurisdictions, outpatient clinics and ambulatory care centers have the option of becoming accredited by professional organizations. Although accreditation is not an absolute guarantee of good medical care, it does mean that the center has been evaluated by a neutral third party and meets certain accepted standards of professionalism and care.
AS FEATURED ON:
AS FEATURED ON:






Doctor