How do I Choose the Best 12" Laptop?
Laptop computers, also called notebooks, are personal computers that are designed to be mobile. They are available in many different sizes, thickness measurements, and weights, with 12 inches (30.48 cm) being a common size. Choosing the best 12" laptop requires a little bit of homework from the consumer. When shopping for this size laptop, you should first figure out exactly how you want to use the computer before beginning the shopping process. Such homework can be very beneficial in finding the perfect laptop for a particular situation.
A 12" laptop, which contains an LCD (liquid crystal display) screen that measures 12 inches (30.48 cm) diagonally, ranks about in the middle among notebook sizes. Some large notebooks will offer screens of 18.4 inches (46.736 cm) or more, while some small netbooks offer limited features and screens that can measure as little as 7 inches (17.78 cm). Larger notebooks typically offer more features and power, while smaller netbooks might be limited to surfing the Internet and collecting e-mail.
As a general rule, a 12" laptop fits in the ultra-portable laptop category. Although some ultra-portable laptops contain a lot of features, most notebooks that fit in this size designation are willing to sacrifice components and computing power to ensure portability. Ultra-portable laptops often weigh between 3 and 5 pounds (1.36 and 2.267 kg) and, because of the medium screen size, are easy to carry.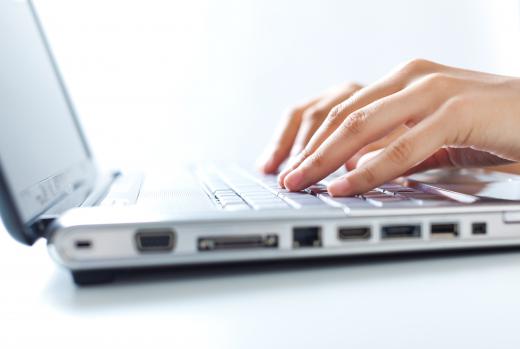 When selecting a 12" laptop, begin by creating a list of ways in which the computer primarily will be used. For example, if you want to use the ultra-portable laptop to watch DVD movies, you'll want to make sure it contains a DVD drive, a high-quality LCD screen, and a fast graphics processor. Some ultra-portable laptops do not include a CD or DVD drive to save space and cost. Screen quality is another area where 12" laptop manufacturers will cut corners to try to lower the overall cost of the unit.
For those who want to use an ultra-portable laptop to perform high-end computing functions, such as gaming or video processing, it will take a lot of shopping around. Very few 12" laptop computers contain the type of processing power required for high-end computing and gaming. An ultra-portable notebook also may use a smaller-than-average keyboard, which some people will find uncomfortable to use for long periods of time. You might end up having to look at larger notebooks or even desktop computers to find the computing power you need.
If you simply want a laptop for basic computing functions, such as using the Internet and reading e-mail, you will have many options. A 12" laptop excels at performing these basic computing functions at a relatively low price. If finding a very low cost unit is the primary consideration when shopping for a 12" laptop, look for a low-end screen quality and a low-end processor to save some money. Some ultra-portable laptops contain strong computing cases to protect them, but such protection can add considerably to the cost of the unit.
AS FEATURED ON:
AS FEATURED ON:






By: Yuri Arcurs

A couple using a 12" laptop.

By: Minerva Studio

It is important to determine how one will use their computer when considering a 12" laptop.

By: Art Allianz

Shopping for a 12" laptop with low-end screen quality and processor will help you save money.

By: imagedb.com

Some ultra-portable laptops do not include a CD or DVD drive.