How do I Become an Operating Engineer?
There are several different ways to become an operating engineer, but the most common is through an apprenticeship program. On-the-job or paid training programs are both also viable options. Someone who wishes to pursue this career path can begin preparing for it in high school by taking specific courses and working at a part-time construction job.
Operating engineers generally work on construction sites operating machinery such as drilling equipment, pile drivers, and cranes. They may also operate loading machines, bulldozers, or road graders, as well as power equipment like air compressors. They are sometimes required to drive industrial trucks equipped with forklifts to different sites. If any of this machinery breaks down or needs repairs, these individuals are often responsible for making sure it is fixed as efficiently as possible.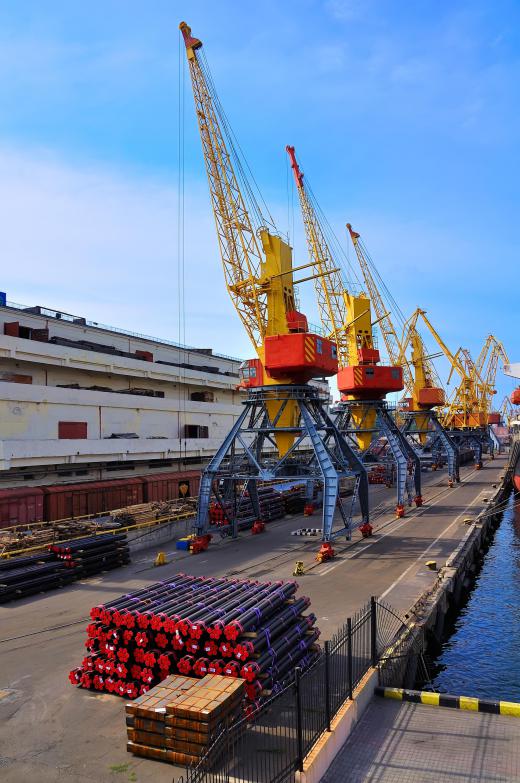 The most common way to learn how to become an operating engineer is to obtain training through a formal apprenticeship program. These programs are generally administered by organizations like the International Union of Operating Engineers (IUOE). Apprenticeships generally take three years to complete, which is equivalent to approximately 6,000 hours, with an additional 144 hours in the classroom each year. Apprentices are trained in operation of different types of machinery, and they also receive training on safety and hazardous materials. Once the program is completed, the apprentice is given both written and practical assessments; a positive result will ensure that the individual becomes a fully qualified operating engineer.
Another way to become an operating engineer is through on-the-job training. In this case, the future operating engineer has a job, but will learn the skills specific to the job as needed. A paid training program is another option; in this scenario, employees may undergo training before actually beginning to work on a construction site. A combination of the two is yet another option to become an operating engineer.
Companies that hire operating engineers generally want them to have a high school diploma, although this is not always required. There are courses one can take in high school to get a head start in becoming an operating engineer, as well. For example, courses in auto mechanics, mechanical drawing, math, and science are all useful. Since the use of global positioning system (GPS) equipment has become more common, knowledge of computers is also beneficial.
Many operating engineers either choose to or are required to become certified in the use of specific machinery. The IUOE offers certification courses for those who wish to receive it. For example, the organization offers crane operation certifications through its Operating Engineers Certification Program (OECP). Many operating engineers choose to become certified in several types of machinery, as this can not only increase pay but offer a broader range of job opportunities.
AS FEATURED ON:
AS FEATURED ON:






By: vetkit

An operating engineer might operate a crane.

By: mihashenk

Operating engineers may work on construction sites operating bulldozers.