How Do I Become an Online Writing Tutor?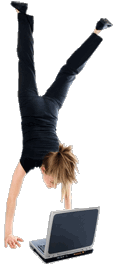 In order to become an online writing tutor, you will need to first build your credentials. This usually means earning a college degree or working toward one; it is best to earn a degree in writing or a related field, and it is important to earn such a degree in the language in which you intend to teach. It is not always necessary to earn a degree in order to become an online writing tutor, but you will have to develop credentials in some other way if you choose not to earn a degree.
You have two general options to become an online writing tutor: you can apply for a position with an established online tutoring agency, or you can branch out on your own. Each method has advantages and disadvantages, and you will need to determine your long-term goals before you become an online writing tutor. If you intend to tutor for the long term and make a living in the process, you may choose to start your own online tutoring business by building a web page and doing your own advertising. This is more work than other routes, but you will have ownership over your business and will be able to take on as much work as you want.
If you choose to work for an online tutoring agency, you will not need to work as hard to find tutoring jobs, as students will generally be assigned to you. You will not, however, be in control of how much work you get or how you advertise your services. You will also need to fill out an application to become an online writing tutor, which means you may or may not be accepted to such a program. In addition, your credentials will have to be strong enough to be hired and to be trusted to tutor potential students.
To boost your chances of getting hired, it is a good idea to get some teaching experience or training. Taking college courses in education is a good start, as is volunteering at schools or with literacy programs in your community. This will give you some work experience that will boost your resume and give you better skills for conveying complex writing concepts to potential tutoring students. You may even be able to volunteer as a tutor at community centers or in schools in your community to get tutoring experience that will look great on your resume.
Another great way to get tutoring experience is by working with another online writing tutor who is already an expert in this style of teaching.


Woman doing a handstand with a computer