How do I Become an Office Laboratory Technician?
An office laboratory technician position can be a challenging and interesting profession for those who are interested in the clinical applications of the basic sciences, and who have a commitment to quality patient care and quality customer service. In order to become an office laboratory technician, a four-year degree in medical technology is usually required, although a combination of education and on-the-job training may be sufficient in some cases. It may also be possible to qualify to become an office laboratory technician with a certificate, usually earned from a vocational or trade school, hospital, or military service.
Educational programs in medical technology usually include courses in mathematics, chemistry, and biology, among others. Specialized training on laboratory procedures is also usual. When training to become an office laboratory technician, you will likely learn about working with blood samples. This may involve chemical analysis, the identification of blood cells, how to look for abnormal cells in the blood, and procedures for working with sophisticated laboratory equipment.
Office laboratory technicians often interact with patients, so good communication skills and a pleasant demeanor are important. The work may involve helping to draw blood or other samples, explaining procedures to patients, and other routine office work. Knowledge of sterilization and other safety procedures is also important, as anyone who works in a medical office may be exposed to potentially hazardous materials.
The medical office laboratory technician is often thought of as a "medical detective" who analyzes laboratory tests and reports his findings. These technicians provide physicians with information that is critical in the diagnosis, monitoring, and treatment of disease. In addition, most laboratory personnel are trained to work with various methods of infection control and sterilization.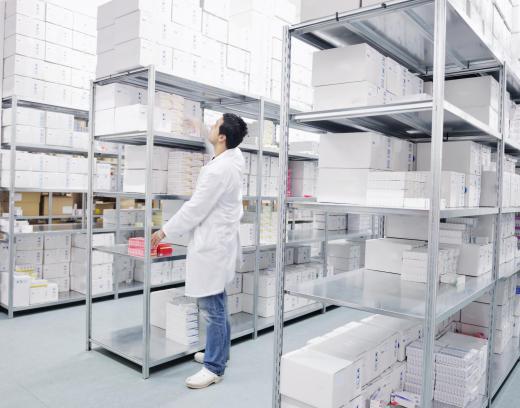 There are different requirements to become an office laboratory technician, depending on where you plan to work. In the US, for example, you will likely need to score at or above the national average in the Health Occupations Basic Entrance Test (HOBET). Many regions also require a technician to be licensed or registered.
A medical office laboratory technician should have good communication skills, work well under pressure, and be comfortable with computers. Attention to detail is important, as is good judgment. Employers often look for technicians who are good problem solvers, and eager to aid in diagnosing patients.
AS FEATURED ON:
AS FEATURED ON:






By: Alexander Gospodinov

An office laboratory technician might work with blood samples.

By: WavebreakMediaMicro

An office laboratory technician analyzes laboratory tests.

By: .shock

Office laboratory technicians must often handle all aspects of testing, from stocking supplies to working with sophisticated lab equipment.