How Do I Become an IT Supervisor?
To become an IT supervisor, you typically need a college degree in information technology (IT) or a similar field and extensive professional experience. While different companies have varying requirements for supervisory positions, a bachelor's degree or equivalent in computer science or IT is typically required. Many companies also require that you have five or more years of professional experience working within the industry to become an IT supervisor, and some of that experience may need to be with increased responsibility as a professional. Once you have the education and experience you need, then you should look for promotion opportunities with your employer or for other businesses in need of IT supervisors.
The first thing you typically need to become an IT supervisor is an educational background in computers or internet technology. An associate's degree may be sufficient for some positions, though bachelor's degrees have increasingly become an industry standard for supervisors at many companies. There are some supervisors who have been able to make up for a lack of education with superior professional experience and personal development, but this has become increasingly difficult. As the industry has become more competitive, you should consider a bachelor's degree to be a requirement for you to become an IT supervisor.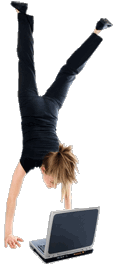 Once you have the education you need, then you should look for opportunities to gain professional experience to help you become an IT supervisor. You can find work in the industry while you are still finishing your degree, and you also may be able to find internship opportunities. As you are working within the industry, you should look for opportunities to demonstrate your desire to become an IT supervisor and take on greater responsibility whenever possible. This includes promotions as part of an IT team and demonstrating that you have the communication and leadership skills often necessary for team leaders and supervisors.
Different companies can have different requirements regarding professional experience needed to become an IT supervisor, though three or more years of experience can be quite common. Some businesses may require five or even eight years of experience for someone interested in a supervisory position. Once you have the experience and education you need, however, then you should begin looking for opportunities to move up within your company or for other businesses that are hiring supervisors. You might find it easiest to become an IT supervisor at a company in which you already work, though promotion may be difficult and you can look for other businesses or organizations willing to hire a supervisor from outside the company.
AS FEATURED ON:
AS FEATURED ON:






Woman doing a handstand with a computer